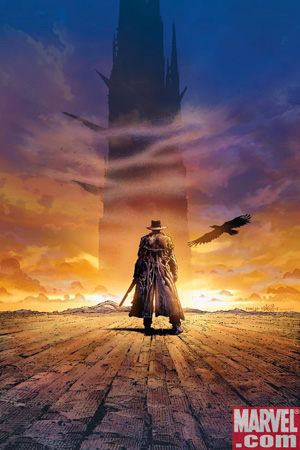 [via FirstShowing]
Holy crap, this is huge! Universal has struck a deal with Ron Howard and screenwriter Akiva Goldsman to adapt Stephen King's Dark Tower series into not only a trilogy of movies, but also a television show! According to FirstShowing:
Universal has picked up the comprehensive deal which includes an initial feature film directed by Ron Howard followed closely by one season of a corresponding TV series written by Akiva Goldsman. That TV series will act as a bridge to a film sequel and then back to another season of television, but this time with a prequel storyline following a younger Deschain (which itself will be informed by a comic book that King helped plot). Then the final film returns to an older Deschain as his journey comes to an end.
And again I say holy crap! This is going to be so epic that words cannot do it justice. For those of you unfamiliar with the Dark Tower stories, the series follows Roland Deschain, a gunslinger on a quest to find the titular Dark Tower lest civilisation fall into ruin. This kind of movie-tv-movie-tv-movie deal has never been seen before, and I think it's going to be incredible. While Akiva Goldsman and Ron Howard aren't exactly my favourite filmmaking duo, I bet they'll do a good job, and the satisfaction of following the story through multiple movies and television episodes promises to be very great indeed! Here's a quote from Ron Howard about the project:
The approach we're taking also stands on its own, but it's driven by the material. With this story, if you dedicated to one medium or another, there's the horrible risk of cheating material. The scope and scale call for a big screen budget. But if you committed only to films, you'd deny the audience the intimacy and nuance of some of these characters and a lot of cool twists and turns that make for jaw-dropping, compelling television. We've put some real time and deep thought into this, and a lot of conversations and analysis from a business standpoint, to get people to believe in this and take this leap with us. I hope audiences respond to it in a way that compels us to keep going after the first year or two of work. It's fresh territory for me, as a filmmaker. This is going to be an amazing life experience for us, trying to do justice to the story and the universe.
This film and television epic won't be seen for a few years yet, but when it appears, it'll change the way people think about franchises forever! I can't wait.