In our last "Shouts from the Back Row" podcast, we talked about movies we loved that everyone else seemed to hate. One favourite that I neglected to mention was Chuck Norris' 1986 action film, The Delta Force. Now, I wouldn't say that this movie is "hated" as it does have its fair share of fans, but it's one of those films where I can't really deliver a rational explaination about why I like it so much and have always debated whether I could seriously classify it as a "good" movie. However, one thing I can't deny is that it's a very interesting movie and even though it delicately walks the line between being intelligent and brainless, The Delta Force never commits the cardinal sin of being boring. The film was produced by the infamous Cannon Group, who were Hollywood's biggest distributor of mindless action films in the 1980s, many of which starred the likes of Chuck Norris or Charles Bronson. Cannon were responsible for such films as Invasion U.S.A., Missing in Action, American Ninja and the Death Wish sequels and even though most of their movies are ridiculously stupid, they're definitely not without entertainment value. The Delta Force was directed by one of Cannon's owners, Menahem Golan, and is actually a lot more ambitious than a lot of the action films they normally produced. While the final result may be incredibly uneven, I'd say that any movie that combines the badassery of Chuck Norris and Lee Marvin gets an automatic "thumbs up".
The plot of The Delta Force is pretty straightforward and even though it was inspired by real-world events from the time period, it's still pretty relevant today. It involves a group of Lebanese terrorists hijacking a commercial airliner filled with Americans and diverting the plane to Beirut, where take all the passengers hostage. As I'm sure you've heard many times before, the United States does not negotiate with terrorists, so they assign Colonel Nick Alexander (Lee Marvin) and his Delta Force counter-terrorism unit the task of launching a rescue mission. Former Delta Force member, Major Scott McCoy (Chuck Norris), is living a quiet life of retirement until he learns about the hostage situation on TV, so he leaps into his pick-up truck (what else?) and goes to join his former comrades on their mission. The set-up of the movie almost resembles a disaster film from the seventies as the hostages are played by an all-star cast that includes George Kennedy (a major disaster movie veteran from the Airport films), Martin Balsam, Shelley Winters, Lainie Kazan and Joey Bishop. The plane's captain is even played by the original Inglorious Bastard himself, Bo Svenson. And the role of Abdul, the lead terrorist, is played by the renowned Middle Eastern actor…ROBERT FORSTER?!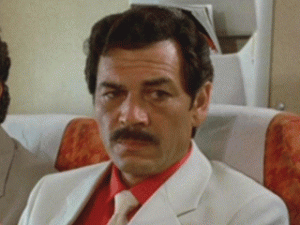 Yes, Robert Forster must be one of the last actors you'd ever picture playing a Middle Eastern terrorist, but he is astonishingly good in the role. He speaks many of his lines in Arabic and is so convincing that you completely forget that he's an American and is the same man who played Max Cherry in Jackie Brown. In fact, Forster's believable performance helps lend the film a surprising amount of credibility.
Now, considering that it's a Cannon film, the first half of The Delta Force is a surprisingly realistic and believable portrayal of an airline hijacking. Despite the presence of its all-star cast, the film somehow manages not to degenerate into camp and become like one of the Airport films, and for the most part, the scenes inside the plane are very tense and well-acted. The film was clearly inspired by the infamous hijacking of TWA Flight 847 that took place in 1985 and after reading the Wikipedia entry on that event, I was amazed to discover just how many scenes from this movie are based on reality. However, one thing that was most definitely NOT based on reality was Chuck Norris showing up on a motorcycle that fires rockets! The real TWA hijacking ended with the hostages quietly being released, but since that would be a very anticlimactic conclusion, this hijacking ends with Mr. Norris and the Delta Force commandos coming in to kick some terrorist ass! In fact, you almost except the "America, Fuck Yeah" theme from Team America to start playing! In this awesome scene, Abdul gets pissed because his terrorist convoy decides to come to a halt just because of "one man on a motorcycle". My God, doesn't he realize the man on the motorcycle is Chuck friggin' Norris?!
Okay, so The Delta Force is pretty much a tale of two movies. Like I said earlier, the first half is a believable portrayal of an airline hijacking that's fairly grounded in reality, but any connection between the second half of the film and reality is purely coincidental. The film has very little action during the first hour, but after that, it becomes a pure macho action fantasy and lot of people have criticized The Delta Force for being a silly piece of American propaganda. Well… they may be right, but I love the film anyway! Despite the jarring change in tone after the movie's first hour, I still greatly enjoy its action-packed and ridiculously over-the-top second half. Since Menahem Golan and his Cannon co-partner, Yoram Globus, are both from Israel and have lived through some Palestinian conflicts, I do think they wanted to make a film that seriously addressed some issues that were close to their hearts. But, of course, since action films have always been their bread and butter, I also think they wanted to stick with what they knew and not divert from their formula too much. Whatever its intentions, The Delta Force still does deliver the goods for its action audience and Chuck Norris fans. The film does get a lot of extra mileage from the presence of Lee Marvin, who adds a lot of credibility to every scene he's in and, even though he was 62 when this was made, he still makes a very convincing commando. This would wind up being Marvin's final role since he passed away not long afterward, but I'd say the climactic sequence where he helps fly the hostages out of Beirut was a pretty good way for his career to go out.
If you've watched the last two clips, you've no doubt heard the hilariously cheesy eighties synthesizer score from Alan Silvestri. Admittedly, the main theme sounds pretty catchy at first, but the movie winds up repeating it ad nauseum in virtually every other scene! Be warned: once you've watched this film, that theme does not leave your head for a long, LONG time! However, I have to admit that the cheesy score is just another thing that's part of the film's weird charm. All in all, The Delta Force has always been a bit of an underrated favourite of mine, and I hope this column has done an adequate job at attempting to explain why. Some may just write it off as a mindless action flick, but it does try to be a bit more than that, and even though it doesn't all mesh together with complete success, it's still a very entertaining effort. I'd say the whole offering is a pretty unique experiment and if nothing else, The Delta Force makes for a very nostalgic trip back to a simpler and more innocent time when people believed that someone like Chuck Norris could single-handedly protect us from terrorists.