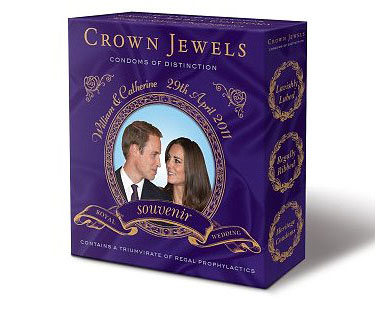 British manufacturer Crown Jewels Condoms of Distinction has found an interesting way to celebrate the upcoming wedding, planned for April 29 of this year, between Prince William and Kate Middleton: "Royal Wedding Souvenir Prophylactics."
Described as a perfect combination of "strength" to symbolize Prince William, and "yielding sensitivity" to symbolize his soon-to-be wife, this three-pack includes a pamphlet with a photo of the couple, making it what is being described as a  "timeless souvenir heirloom" collector's item. Click here to visit the official site!
It's definitely a unique way to remember the British Royal Wedding. With their slogan, which is, appropriately enough, "Lie back and think of England," it's kind of hard not to.