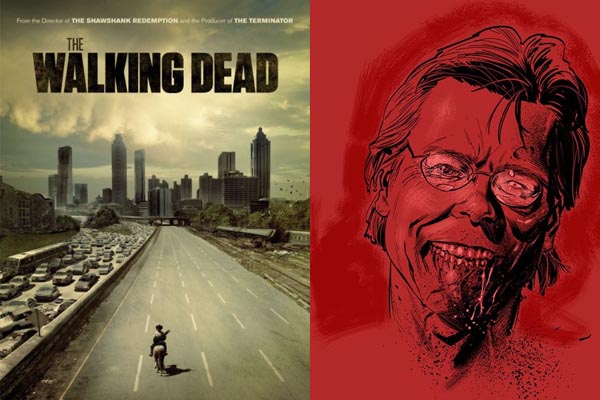 [image courtesy of Warming Glow]
A lot of nerdy TV and movie news has been cropping up lately, but it's mostly rumours, so I'm hesitant to cover it. But there are a few tidbits and half-truths that are just too cool not to write about. My solution? The Nerdy News Roundup: a bunch of short little blurbs that sum up bits of news related to things that I enjoy, some of which may just be rumours. No time to waste! Let's get right to it:
1. Stephen King is being tapped to write an episode of The Walking Dead. This one's still in rumour territory, but the possibility of King, one of the biggest names in horror, bringing his twisted touch to one of my favourite new TV series is just so sweet that I can't resist mentioning it. I give this one a 50/50 chance of happening.
2. The Hobbit is finally filming! This one isn't a rumour, but it's still a surprise, considering everything the production has struggled through over the past few years. Peter Jackson even took some pictures of himself in Bag End to prove that things are finally moving along. FINALLY.
3. Darren Aronofsky has left the director's chair on The Wolverine, thereby making it 100% less interesting. Not much more to say beyond that. It sucks, but frankly, I always thought that Aronofsky was more worthy of bigger projects than the sequel to a crappy prequel.
4. This one is old news, but I didn't mention it on the site when it happened, so I'll mention it here. Julie Taymor has stepped down as director of Spider-Man: Turn Off The Dark. No surprises there, seeing as how the overblown, overbudget musical has become a bit of a laughingstock. Frankly, I was amazed that the show kept going after people started getting injured. In related news, the Peoples' Improv Theater in New York launched its own $0 budget Spidey musical called The Spidey Project, successfully opening the show before Turn Off The Dark and proving that you don't need U2 to make a Spider-Man musical work – in fact, the opposite may be true.
5. Finally, we get a half-truth/half-rumour piece of news. Joseph Gordon-Levitt has been cast in The Dark Knight Rises, but who he'll be playing is still a mystery. For a while, everyone suspected that he would be playing the son of Tom Wilkinson's Carmine Falcone from Batman Begins, a character called Alberto Falcone who becomes known as "The Holiday Killer". But those rumours have been squashed, so we'll just have to see who Gordon-Levitt winds up playing. Honestly, I hope he doesn't play a villain, because between Bane and Catwoman, we already have plenty of material.
That's all for the Nerdy News Roundup!