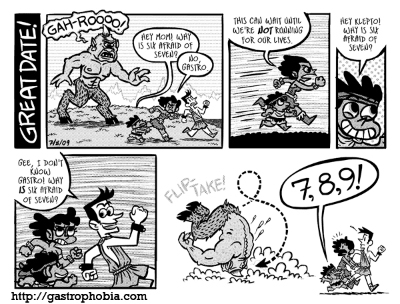 Some Sundays, Felan is too busy to write a full profile, so he posts his favourite webcomics instead.
Gastrophobia is like an amazing Saturday morning cartoon that never existed. Set in a highly-fictionalized Ancient Greece, it follows the ongoing adventures of Phobia, an exiled Amazon warrior, her son Gastro, and their slave Klepto, as they fight mythical beasts, complete epic quests and tell bad jokes. This comic is all about style, though – creator David McGuire's delightfully expressive limited-pallete artwork is an over-the-top combination of Archie, old newspaper comics, '70s indie comix and teen-oriented manga, and is filled with pitch-perfect facial expressions, flip-takes and pratfalls. Matching the style, McGuire's gags are perfectly, hilariously unfunny – it takes real talent to write a truly terrible punchline!
Gastrophobia is updated sporadically at http://www.gastrophobia.com, and there are about sixteen finished storylines (as well as numerous one-off gag strips) in the archives at http://www.gastrophobia.com/archive.php!