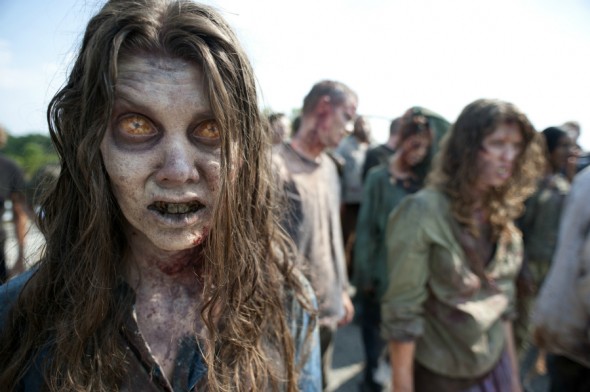 The Walking Dead is one of the few shows that we follow closely on The Back Row, and with good reason: it's a show full of awesome zombie mayhem, and I love me some awesome zombie mayhem. But the series hasn't been without its fair share of drama, as just last winter people were reporting that, in a seemingly brash and illogical move, showrunner Frank Darabont had fired his entire writing staff in favour of freelance writers. While the rumours were quickly denied by one of the show's executive producers, it did give us, the viewing public, a bit of insight into the struggles going on behind the scenes on The Walking Dead. Well, it seems as though those struggles were too much for Frank Darabont, because now reports are popping up that he's leaving the show! Another strange occurence, given that he was just at Comic-Con promoting season 2 of the series. Here's a blurb from Deadline:
Frank Darabont, the creator, executive producer and director of AMC's smash hit The Walking Dead, is stepping down as showrunner of the series, which is now in production on its upcoming second season. The news is even more surprising given the fact that Darabont was on hand for Walking Dead's Comic-Con panel just this past Friday alongside fellow executive producers Robert Kirkman, on whose graphic novel the series is based, and Gale Anne Hurd and appeared excited about Season 2. There is speculation that Darabont might be off the show completely, but I hear talks are still ongoing about him possibly staying on in some capacity. Darabont, who spent five years trying to get a TV version of the zombie saga off the ground and wrote and directed the AMC pilot, hails from the feature world, and I hear that he never quite adjusted to the daily grind of producing a TV series.
I must say, I find this to be an interesting move on Darabont's part. From what I know, it took him five years just to get the series off the ground, and he directed the amazing pilot episode that everyone seems to agree is the best episode of the series so far. What happened to all that passion? It's beginning to sound to me like Darabont is a pretty moody guy. I hope he continues to work on the series in some capacity, but man, what a shocker. This doesn't sound like the same guy who, just last year, was talking about doing ten seasons of The Walking Dead. Darabont is going to be succeeded by Glen Mazzara, who has worked on a writer on such notable shows as Nash Bridges and as the producer of The Shield. Since I didn't follow either of those shows, I can't really speculate on how good a job Mazzara will do. I only hope that Darabont will continue to work on the series in some capacity and that the show gets better instead of worse.