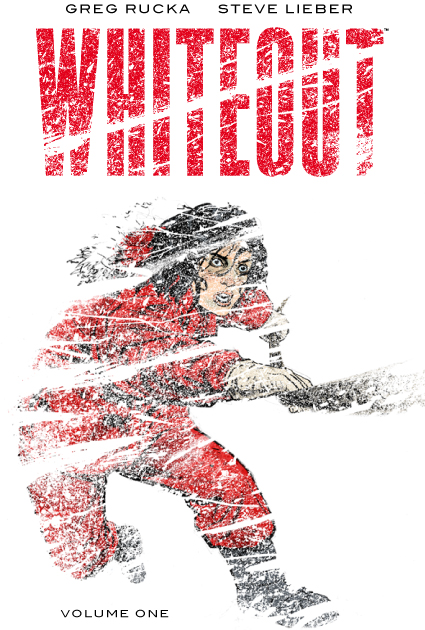 On Sundays, Felan profiles his favourite comics and graphic novels from across the diverse medium's history.
For the purposes of this post, let's just imagine that the terrible film adaptation of Whiteout, starring Kate Beckinsdale, never existed; we're going to focus instead on the excellent graphic novel Whiteout, written by Greg Rucka and drawn by Steve Lieber, and its sequel: Whiteout: Melt. Essentially a murder mystery with the twist of being set in the isolated stations and barren wastelands of Antarctica, Whiteout also stands out as a mainstream comic series featuring a complex, tough and above all believable woman protagonist in an industry for which "strong female characters" usually means something like this. (Side note: I haven't profiled Kate Beaton's Hark! A Vagrant here because frankly, it's too well known and loved for another voice to matter, but if you haven't read it, it's far and away the best webcomic on the Internet and you're missing out.)
The set-up for volume one is simple but provocative: the frozen victim of a grisly murder is found out on the ice, and US Marshal Carrie Stetko takes charge of the investigation. She's been stationed at McMurdo Ice Station because of past transgressions, and so her bosses are breathing down her neck. What should be routine becomes more and more complicated as more murders start stacking up and more people become involved – somebody doesn't want Carrie to solve the mystery. Lieber depicts this bizarre, hard world in stark black-and-white art. His interiors are shadowy, filled in with grey or black ink, while his exteriors are sparse – he uses the monolithic, overbearing whiteness of the blank page to dwarf the sparingly-rendered characters in the snow and ice.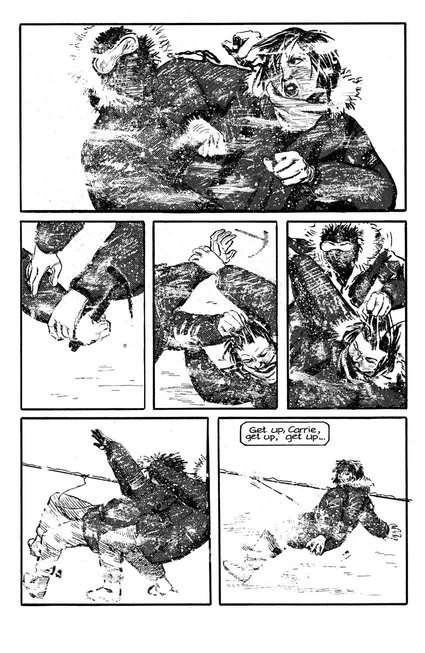 The Antarctic makes a great setting for this kind of story: it's full of weird, stiry-crazy characters (anyone trapped on a continent where winter nights last 22 hours is bound to lose it a little), political tensions (Antarctica is, after all, neutral territory) and genuinely terrifying natural dangers (Carrie loses two fingers to frostbite early in the second issue). Volume two, Whiteout: Melt plays up the political angle, forcing Carrie to team up with a Russian officer to solve an apparently ideologically-motivated multiple homicide. The books are extremely well-researched, and the dialogue and narration are peppered with folk wisdom from Antarctic residents and historical facts about the continent.
As noted above, Carrie Stetko is a rarity in mainstream comics – rather than constructing her as a hyper-sexualized paragon of femininity or a masculinized, asexual stand-in for a male hero, she is a complicated and at times contradictory character, with real motivations, desires and instincts, not to mention real problems (quite apart from the dangers of her line of work, she's also an alcoholic). Although she is witty and intelligent, and charming in a gruff, sarcastic sort of way, in many ways she's not a particularly likable character; Rucka's goal here, supported by Lieber's evocative character design, is not to make us love her, but to engage us in her story.
Whiteout and Whiteout: Melt are available from Oni Press at http://www.onipress.com/titles/h/113, and you can read the first issue on Steve Lieber's website here: http://www.stevelieber.com/whiteout/