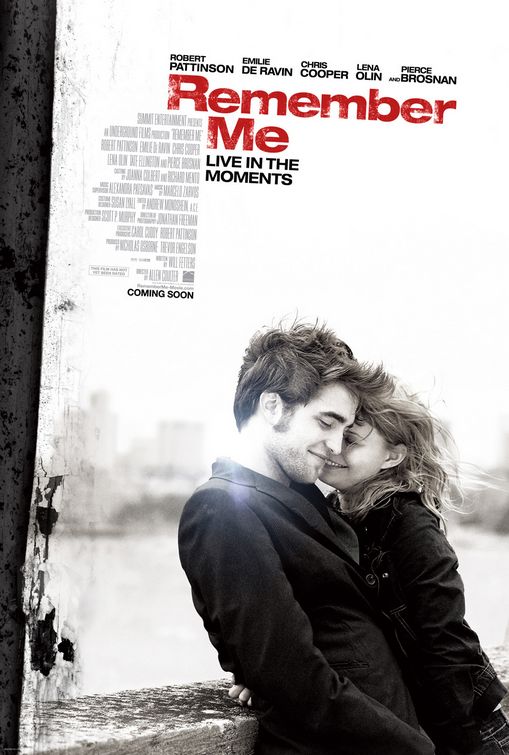 I don't usually care too much for Robert Pattinson, but even if you perceive him with absolute indifference, there's something to be said about his role in Remember Me. Pattinson produces and stars in the Allen Coulter-directed film. Cristal recommended this film to me and it was excellent. In essence, the film tells of two lovers who have both loved and lost in the ruthless streets of New York City. They share true love for a New York minute. Tragedy brings them together, and tragedy draws them apart.

Emilie de Ravin (Claire in Lost) stars as Ally, who witnesses the death of her mother on a subway platform by soulless muggers at a young age. She grows up feeling a certain emptiness towards her father, who is played by the brilliant Chris Cooper. Ally goes to the same school as Tyler (Pattinson), who has experienced a tragedy of his own. His beloved older brother killed himself, and he is also still trying to cope with it. Although they don't pay too much attention to each other at first, they are eventually drawn to each other's charm and a romance, sweet but short-lived, begins to blossom.  Tyler loves his younger sister, who is largely ignored by their father (he's playing by Pierce Brosnan with a compelling but odd New York accent). It turns out that Ally's father is a cop, and when Tyler's past and rising anger collide, the two men end up meeting under unpleasant circumstances.
The characters in the film are very interesting, and as the film progresses you really feel for each and every one of the characters (well, maybe not the roommate so much, but he's interesting too). The chemistry between the actors is effective, although it's strange that they hired an Australian actress and two English actors to play New York characters. Many of you reading this have probably already seen Enemy at the Gates, which is all in all a great movie, but suffers on some accounts because the Russian characters are all played by either British or American actors (and Ed Harris as Konig? I mean, really? He did wonderfully in the role, but why not a German actor?). I guess I have a bit of an issue with authenticity when it comes to casting, but if you can tolerate that, then you'll enjoy the movie even more than I do.
The tragic ending of the film is a bold move, and it's very controversial. I saw it as coincidental, and it played well into the Greek tragedy theme that the film was aiming for, even if it's a bit sociopolitical in retrospect. It's a tear-jerker of a film and I let loose a few tears of my own when I watched this. With the next film in the dreadful Twilight saga coming out soon, it's nice to know that Pattinson has produced a few buried gems of his own (there's always Harry Potter and the Goblet of Fire as well). What stood out for me with this film is its unflinching portrayal of tragedy and its harrowing portrait of youth. Romance isn't always this sappy, spiced up, wonderful thing. Love hurts. Life is random and existence is arbitrary. People die without reason or meaning sometimes. That's just how it is. It's important to cherish the time that we have with each other and express ourselves to the world.