Back in July, I did one of my more unique "Before They Were Stars" features when I profiled Jessica Biel's acting debut at the age of 12 in an obscure 1994 short film called It's a Digital World. This movie could probably best be described as a musical fantasy about how characters from famous children's stories and nursery rhymes would function in a more modern digital world. The film's writer, Scott Edmund Lane, wrote his own plot summary for it at the Internet Movie Database: "Tiny Town, the place where all nursery rhymes happened, is in BIG trouble in the here and now. They have all the communication devices but no one can communicate. They need a super-hero. Enter Digi Digital, who is only programmed to play and have fun". Jessica Biel plays a blue-faced girl named Regretal, who lives in a shoe with her brother, Handful, and her Uncle Gepetto. I've posted the film here and you can catch your first glimpse of Jessica at the 7:16 mark.
Anyway, a couple days ago, the Huffington Post did their own feature on Jessica Biel's role in the film and gave credit to the "fantastic detectives" at The Back Row for having discovered it. It wasn't long after that when I contacted Paul Greenberg, a very nice gentleman who just happened to be the director of It's a Digital World. He was very enthusiastic to have a chance to talk about the film again and was happy to share a lot of stories and anecdotes about it. He was also generous enough to send me some stills of young Jessica Biel from the set of the movie, which I have posted here. There doesn't seem to be much information about It's a Digital World out there on the Net, so for the exclusive story behind the making of the film and Jessica Biel's first big break in the business, see below.
The filmmakers' main objective was for It's a Digital World to function as a promotional trailer, which could eventually be used to secure the necessary funds to turn the project into a feature-length children's film. The short was originally intended to be only five minutes long, but the filmmakers kept dreaming up more ideas to use and the finished product wound up clocking in at eighteen minutes. The budget for It's a Digital World was $350,000 and it was shot over the course of seven days, and you will probably recognize the famed Universal Studios backlot as the location for several of its scenes. Anyway, Paul Greenberg auditioned about 120 kids for the role of Regrettal, but he says that once he saw a young girl named Jessica Biel, he instantly knew that she was the one.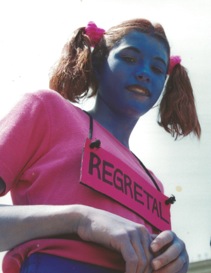 Jessica's family had seen the ad for this audition in a magazine and accompanied her to Los Angeles to try out for the role. Paul was immediately impressed by her charisma and lovely singing voice, not to mention her ability to cry on cue. Believe it or not, he had a conflict with the film's executive producer, who really wanted to cast another girl in the role, but Paul fought for Jessica and… well, given how things turned out for her, that was obviously the right call. Paul has nothing but great things to say about Jessica and her family, who were very sweet and professional people, and the rest of the Biel family even wound up taking roles as extras in the film. A scheduling conflict arose when Jessica got a modelling gig for The Gap that just happened to take place on the same day she was supposed to film her big scene. Since the photo shoot couldn't be rescheduled, Jessica's father actually gave the production a couple thousand doors to take a brief break, so that the Biel family could attend the shoot and then return to film her scene!
While Jessica has rarely ever been given the chance to utilize her musical talents in any other roles, she showed herself to have a very good singing voice in It's a Digital World. In addition to performing a solo musical number on camera, she also sang the song that played over the closing credits and provided the film's voice-over narration. In fact, her vocals could actually be heard on an album that was recorded which featured fifteen songs from the film, but it never got released. While the CGI in It's a Digital World looks very dated today, this was pretty cutting-edge technology at the time and there did seem to be an interest in developing the project into a feature film. Unfortunately, while an agency did acquire the rights to It's a Digital World, they pretty much kept it buried for a couple of years and didn't do anything with it. While the animated character of Digi Digital did enjoy some brief fame as the mascot for Sharon Stone's charity, Planet Hope, he may have suffered from the fact that another famous animated character was eventually developed who bore quite a striking resemblance to him. See any similarities here?
For the record, Digi Digital was created a full five years before SpongeBob made his first appearance on TV, so you have to wonder if Digi gave anyone some inspiration. Anyway, It's a Digital World pretty much sank into limbo and was never given any further development. To date, it has never been released on VHS or DVD and only became available for viewing in recent years when the filmmakers decided to post it on Youtube and Vimeo. However, it always garners a bit of curiosity from Jessica Biel fans when they look at her filmography and wonder what this short film from the beginning of her career could be. Even though It's a Digital World did not become a feature film, Paul Greenberg still did pretty well for himself as he's had quite a successful and lucrative career directing and producing infomercials and now runs his own company, Greenberg Direct, Inc.. It should also be noted that in addition to being responsible for Jessica Biel's first screen appearance, Paul was also around for the last screen appearance of Rodney Dangerfield, Frank Gorshin and Soupy Sales. They were all cast (alongside such notable names as Frank Stallone and Adam West!) in a little-seen 2005 film that Paul Greenberg produced called Angels with Angles. The movie also happened to be directed by Scott Edmund Lane, marking a reunion between the two main creative forces behind It's a Digital World. Angels with Angles isn't easily available either, but here's the trailer for it.