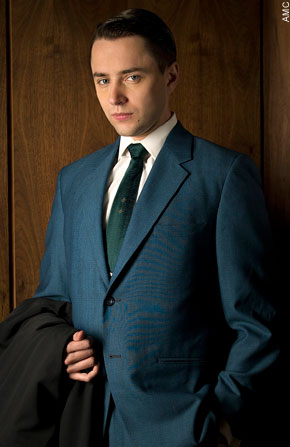 Best known for playing the role of David Boreanez's son Connor on Angel and for the role of ambitious young ad man Pete Campbell on Mad Man, Vincent Kartheiser has been acting since he was a kid, appearing in stage productions through Minneapolis's Children's Theatre Company. He made his film debut in the 1993 film Untamed Heart with Maria Tomei and Christian Slater, after which he moved into family films such as The Indian in the Cupboard and Alaska. This led to him starring in the film Masterminds opposite Patrick Stewart. Some of Kartheiser's other film credits include Another Day in Paradise and Crime and Punishment in Suburbia.
Now, you may not know this from the characters he plays, but Kartheiser is actually a bit of an odd duck. He lives in a bungalow with no mirrors, frequently gives away everything he owns, and it was even reported that he doesn't have a toilet. I suppose it's admirable for a star like him to live poor, but…giving away everything you own? That's a bit unusual.
Pete Campb-er Vincent Kartheiser turns 33 today.