There isn't a lot of info online about the upcoming movie Inseparable yet, but this trailer has been making the rounds lately based on the fact that it's a Chinese-funded movie starring Kevin Spacey in one of the lead roles! According to Wikipedia's plot description, "Inseparable centers on a young man (Daniel Wu) with problems at home and work who is befriended by a mysterious American expat (Kevin Spacey). Beibi Gong co-stars as the young man s investigative reporter wife." But this gives us no indication as to where superheroes come into play, and this movie is definitely about superheroes. They're right there on the poster!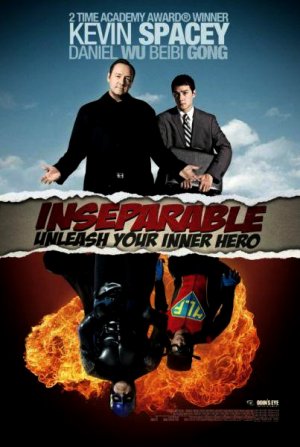 Needless to say, I'm very intrigue to see what comes of this. Will more Hollywood stars begin appearing in prominent roles in foreign films?
Inseparable doesn't have a North American release date yet, but is in theatres now in China!