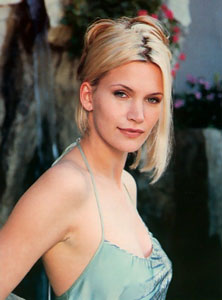 I'll admit to having a strange fascination with celebrities who start their onscreen careers primed to be stars, but who then sink into obscurity. Natasha Henstridge is one such celebrity. Having started her career as a model at the age of 14, she was featured on numerous magazine covers (including the French edition of Cosmopolitan) and in several commercials for products like Olay and Old Spice before making the leap into the realm of film with her starring debut in 1995's Species.
http://www.youtube.com/watch?v=-mKoAkUQRWM
Regardless of what you think of the film's quality, Species was a hit at the box office, spawning two sequels in which Henstridge reprised her role of the alien/human hybrid Sil. Outside of the Species franchise, Henstridge's choices in film roles have yielded varying degrees of success, with movies such as Maximum Risk, Ghosts of Mars, The Whole Nine Yards and The Whole Ten Yards making up the majority of her well-known film work.  She has also done a fair amount of TV work on shows such as South Park, She Spies, Commander in Chief, Eli Stone, Time Jumper, CSI: Miami, and The Secret Circle. She has yet to match the success of Species (and it's actually funny to think that the actress playing the younger version of her character – Michelle Williams – has found greater success), but she's still working, and we can expect to see her in the upcoming film The Bronx Bull. Natasha Henstridge turns 38 today.