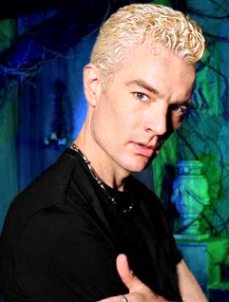 James Marsters began his acting career on that stage in productions of plays such as The Tempest and Antigone. In the early 90s, Marsters moved into television acting with appearances on Medicine Ball, Maloney, and Northern Exposure.
>http://www.youtube.com/watch?v=LqEd0afXei4
In 1998, Marsters joined the cast of Buffy the Vampire Slayer in season 2 of the series and stayed with the show all the way until its finale, even reappearing in the final season of the Buffy spin-off series Angel. I think it's safe to say that the character of Spike is one of the best in the whole Whedonverse.
In addition to his work with Joss Whedon, James Marsters has appeared in TV shows including Without a Trace, Torchwood, Smallville, Caprica, and Supernatural, and in movies such as P.S. I Love You, Dragonball Evolution, and even in a small role in the remake of House on Haunted Hill!
Oy, gov. James Marsters turns 50 today.