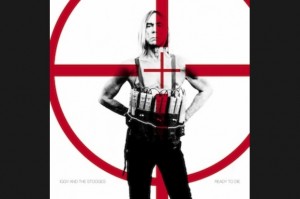 Look at that album cover! Iggy literally looks explosive. Upon hearing about this album, I was really skeptical about hearing it. After hearing The Stooges' disappointing album The Weirdness, I was ready to lay my hopes for another incendiary Stooges record to rest. While it's not nearly as kinetic and self-destructive as The Stooges' 1973 masterpiece Raw Power (or even as wild as Fun House), Ready to Die still has that fire about it. James Williamson rekindles that fire with his excellent, driving, Stonesy riffs, which clearly defines this comeback (of sorts) album. Iggy's voice sounds a bit worn over the years, and while he's still a capable and charismatic frontman, gone are the days of the real wild child. He even wrote a few ballads for the album, but unfortunately none of them are any good. 
Raw Power is one of my favourite records ever, and its lyrics are some of the best ever ("I'm a street walking cheetah / With a heart full of napalm" are easily the best opening lines for any song). The lyrics are slightly better on Ready to Die than the terrible lyrics from The Weirdness, but they're still a bit silly. 
Ready to Die doesn't really break any new ground, but the music is top notch. With song titles such as "DD's" and "Sex and Money," you know you're in for a fun ride, but the simplicity of these themes reminded me favourably of a more lewd Jonathan Richman. Iggy has a charming presence, and he's still got a few great songs left him (check out American Caesar).
Musically, Ready to Die sounds more like the Stones-driven '77 Williamson/Iggy Pop collaboration Kill City, which featured some of their best songs and much better lyrics. Although Ready to Die is by no means a classic, it's still a promising addition to the Iggy Pop canon and a welcome return for The Stooges.
I'm optimistic about The Stooges' future. If they can improve lyrically, then we can certainly expect a few more gems from them.
Recently listened:
"DD's" by The Stooges
"Pancake" by The Swirlies
"Gutter Town" by Hank Williams III
https://www.youtube.com/watch?v=i4rp9JHHeeE