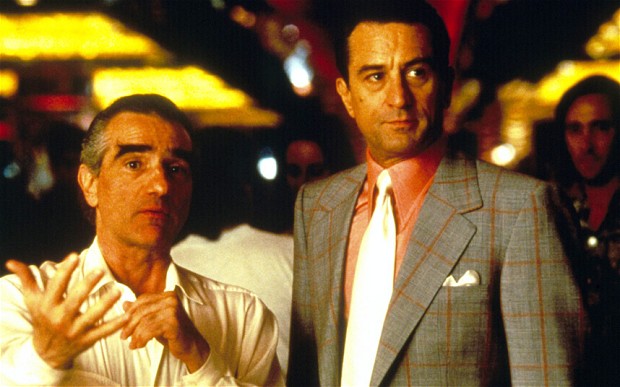 In a professional relationship spanning 40 years, actor Robert De Niro and director Martin Scorsese have made a total of eight films together – several of which are typically considered, by directors and critics alike, to be among the best films ever made.
On the occasion of Robert De Niro's 70th birthday, here is a look at four classic De Niro and Scorsese outings!

Mean Streets (1973)
Harvey Keitel plays Charlie, a debt collector for the mafia in New York City in the midst of an existential crisis. He constantly struggles to reconcile his professional ambitions and criminal lifestyle with his Catholic upbringing, and he also struggles to reconcile his obligations to the mob with his obligations to his best friend John Boy (played by De Niro.) Roger Ebert, who would remain a fairly loyal supporter of Scorsese, was so impressed with the film that he called it "one of the source points of modern movies."
Taxi Driver (1976)
De Niro starred as a former U.S. Marine turned cab driver Travis Bickle, who lives alone in New York City. Bickle becomes something of a vigilante in order to rescue a 12-year old prostitute (played by a young Jodie Foster) from her pimp Sport (played by Harvey Keitel.) The film was nominated for a total of four Academy Awards, and also won the Golden Palm at Cannes. In one if the film's most iconic scenes, Bickle, anticipating his confrontation with stares into a mirror and repeatedly asks "Are you talkin' to me?" with De Niro ad-libbing most of those lines.
Raging Bull (1980)
Loosely based on the autobiography of middleweight boxer Jake LaMotta, the film features Robert De Niro in the starring role as LaMotta. The film also stars Cathy Moriarty as LaMotta's wife Vickie, and Joe Pesci in the role of LaMotta's brother, Joey. Throughout his career as a professional boxer, LaMotta's personal and professional life is marred by angry outbursts, marital issues arising from his jealousy and obsessive issues, and his relationships with various members of the mafia. Although he performs well in the ring during the fights, LaMotta's anger and generally-destructive behavior ruin his life. The film was nominated for eight Academy Awards, and won two — one for Best Actor for De Niro, and one for Best Editing. Roger Ebert declared it the best film of 80's, and one of the ten best films ever made.
Goodfellas (1990)
The film is an adaptation of the book Wiseguy by author Nicholas Pileggi. The story follows the true-life story of the Henry Hill and his friends who were involved with the Lucchese family mafia. The film covers Hill's story, which starts in a working class Italian American community in Brooklyn in the 50's. Hill, seduced by what he perceives to be a glamorous lifestyle, and one that he believes will enable him to transcend the poverty of his upbringing, wants to be a gangster. He becomes involved with the Lucchese family associates Jimmy Conway (Robert De Niro), Paulie Cicero (Paul Sorvino), and Tommy DeVito (Joe Pesci.) A tremendous amount happens to the group over the course of their twenty something years working together. They come into obscene wealth; they incur the wrath of other mobs by killing "made" men (men who are fully initiated into the mafia); and some of them end up in prison. The film was an enormous success. Roger Ebert ranked it the #1 Best Film of 1990.