While it's supposedly set in the same Marvel universe as Iron Man and Thor, the latest incarnation of 'Daredevil' is more brooding and grisly than the cinematic counterparts. Markedly, the show fleetingly references "billionaire playboys" and vigilantes with "magic hammers" but the fantasy element is downplayed. The first season might be a superlative representation of the sightless vigilante than the Ben Affleck vehicle in 2003 however it is a cumbersome prospect overall.
Let's dwell on the positive aspects first. The action choreography is swift and balletic. The show isn't squeamish about gore which could splatter F/X from 'Punisher: War Zone'. Example: A gruesome car door decapitation that is grindhouse-spectacular and the scalpel torture tactics of Daredevil. Vincent d'Onofrio is menacing and multifaceted as Fisk a.k.a. The Kingpin. His courtship with an art gallery exhibitor unsheathes a surprisingly bashful side to the villain who casually eliminates Russian henchmen. His gawky bedside manner is a potent contrast to his megalomaniac danger. Yet his baritone voice is too mannered overall.
The metropolis of Hell's Kitchen is filtered moodily with 50's film noir cinematography. Every alley is seedy and every street is ripe with crimes to the point where it appears rational when Karen Page (Deborah Ann Woll) says "all that I see are threats". Also, Elden Henson is amusingly low-key in the sidekick role. Lastly, Drew Goddard is allegiant to the character's comic book traits such as the heartbeat lie detector.
Now the negative points which somewhat overshadow the praiseworthy points. The child actor in the repetitive flashback scenes (far too many reproductions of Matt's father insisting that Matt pursue his education to avoid becoming a thug like his pugilistic dad) is stilted and his mantra of "I'm blind" is shrill. Then Charlie Cox in the titular role is largely nondescript and his quivering voice doesn't command attention. Once D'Onofrio materializes, Cox vanishes into the skid-row background. He ceases to be a very engaging focal point. On a side note, I miss the glazed eye contacts from the 2003 version. Cox is not convincingly blind when his trademark crimson glasses are off.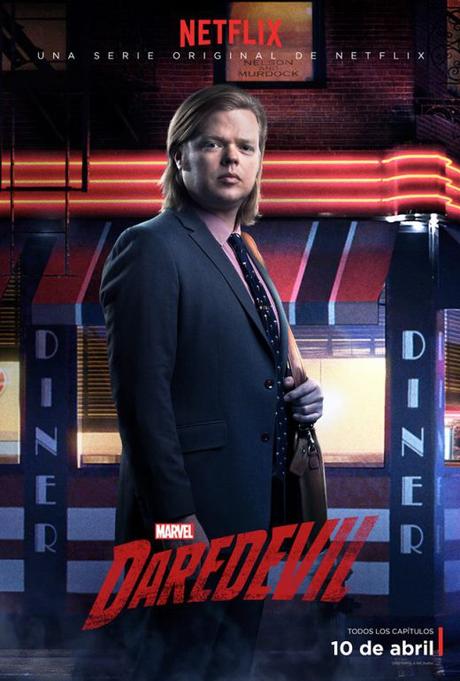 In spite of my lauding of the action scenes, the later episodes blur and the punches are pulled in a very rehearsed and lumbering blocking pattern (case in point: the hallway fight in Episode 2). To my dismay, the main issue is that the show is more hinged on an origin story for Nelson and Murdock's law practice than Daredevil's superhero vigilantism. With a plethora of better shows vying for my patronage (Better Call, Game of Thrones, True Detective, Louie), I doubt I'll return to Daredevil next season.
2 out of 5