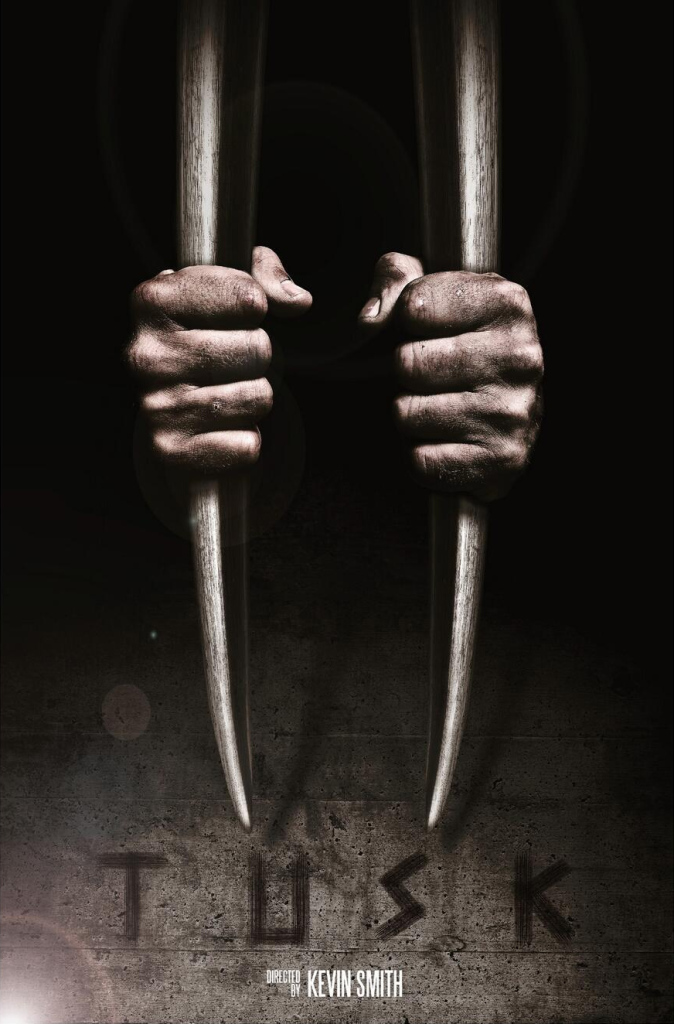 It's been over 20 years since Clerks. And I've been a Kevin Smith fan for about 15. I've seen 'em all: the Askewniverse saga, the Evenings with Kevin Smith, Jersey Girl, Zack and Miri, Cop Out, Red State — hell I even followed his run-ins with the Westboro Baptist Church. That's how big a fan I am. So I figured: new Kevin Smith movie? Horror? Set in Canada? I'm in!
Fresh off the success of Red State, a decent movie that was refreshingly unpredictable, I wanted to see Tusk knowing absolutely nothing about it. Justin Long stars as Wallace, a podcaster going to Canada to find the next great story. There he meets wheelchair-bound Howard Howe (played by Red State's Michael Parks), who has a personal story about how a walrus he named Mr. Tusk rescued him on the worst day of his life. Half a cup of tea later, and Wallace is passed out on the floor. The next morning Wallace is in a wheelchair, and his leg has been amputated. Howard Howe is not what he seems, and this is just the beginning. Back in America, Wallace's girlfriend and best friend (played by Haley Joel Osment) are worried by a distressing phone call and head off to Canada to find him. But while this is going on, Howard Howe is executing his lifelong dream: to surgically turn a human being into a walrus as a tribute to Mr. Tusk, and also to finally learn "if man is truly a walrus at heart" (yes, that's the actual plot of the movie). I don't want to give too much away, but just know that the entire second half of the movie is basically Justin Long screaming at the top of his lungs. I won't say what he looks like while he's doing this, but if you're up for it, go for it. Or as the movie puts it, "go full walrus".
I should also mention this movie is very much a horror-comedy. Unfortunately, instead of balancing the two genres, it just kind of flicks genre switches, throwing one in your face, followed by the other. It creates a very out-of-focus viewing experience for someone trying to mentally sync with the movie. When it's supposed to be scary, it's silly, and when it's supposed to be funny, it's confusing, and when it's supposed to be heart-warmingly serious, it's just weird. This is not the kind of the movie where you know for sure that something is wrong with it, just that you know for sure you are not its audience. But more than that, I don't know who the audience could possibly be. How often do people even think about walruses, let alone seek out movies about them?
I later found out the idea for Tusk originated on Kevin Smith's SModcast as The Walrus and the Carpenter, not to be confused with (or maybe to be confused with) the Lewis Carroll poem. After basically pitching an entire movie right then and there, Kevin Smith started a vote among his fans using hashtags on whether this movie should actually be made: #walrusyes and #walrusno. The result was a resounding "#walrusyes". You could argue for years on the kind of people who would vote on something like this, and even longer on whether those voters were just curious if Kevin Smith would actually go through with it.
Tusk is very much a "love it/hate it" movie. As for me, I vote #walrusno.
1 out of 5