So far this summer I've covered retrospectives and reappraisals of three major franchises with roots in nostalgia. Each of them is embarking on their fifth cinematic journey. To say that Terminator: Genisys and Vacation (2015) were coolly received would be an understatement. On the other hand, the Mission: Impossible series is in no danger of becoming antiquated and by virtue of that, Rogue Nation is an inexorably exciting entry in the spycraft subgenre.
Continuing from Ghost Protocol, the IMF has been dissolved due to the serendipitous events where a nuclear warhead narrowly clipped a skyscraper before submerging into the bosom of the ocean. Not known for their continuity, Christopher McQuarrie handsomely tweaks the conventions especially the embedded message inside a vinyl record where Ethan Hunt (Tom Cruise) is entrapped and incapacitated within a booth.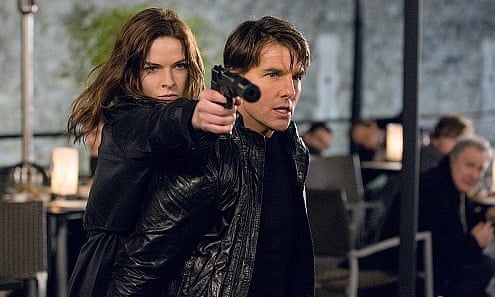 At this point, Cruise should be top billed for his audacious stuntwork like Jackie Chan or Burt Reynolds. In this installment of his practical prowess, he sprints onto an Airbus Atlas airplane and he is bodily latched to a door while it achieves breakneck altitude. Of course, Cruise doesn't cease there. He holds his breath for nearly six minutes in a tour-de-force underwater sequence where he must switch profile cards in a tank whilst conserving his oxygen.
While I do venerate Cruise and his unflappable enthusiasm, it borders on vainglorious ego inflation when Alan Hunley (Alec Baldwin) blusters about him having "no equal" to the British Prime Minister. That aside, the main chink in the armor is the villain. Outside of Philip Seymour Hoffman's Owen Davian, Mission: Impossible isn't rife with outstanding foes for Hunt. Sean Harris is certainly unsettling with his slightly strangulated voice but they can't stifle the fact that he is a cog in a wider conspiracy.
Unfortunately, possibly due to obligations elsewhere, Jeremy Renner and Ving Rhames are the proverbial benchwarmers this time out with Renner mostly poker-faced in front of formal government inquiries. McQuarrie occasionally mutes the Joe Kraemer score to properly refocus on the agog claustrophobia ala the aforementioned Moroccan power station set piece.
Admittedly, newcomer Rebecca Ferguson is a gorgeous femme fatale but her pendulous loyalty is rickety. Why would anyone align themselves with her after her incessant betrayals? She is akin to Mack from Indiana Jones and the Kingdom of the Crystal Skull. The callback to the glass booth with Solomon Lane (Harris) is clever but the conclusion is a bit listless.
Suffice it to say, Rogue Nation is another scrappy, albeit hyperextended blockbuster in Mission Impossible's belt and I wouldn't be opposed to the proposed sixth film. As long as the 53-year-old actor-producer Cruise is the purveyor of quality, Mission Impossible have no foreseeable end game.
Rating: 3.75 out of 5