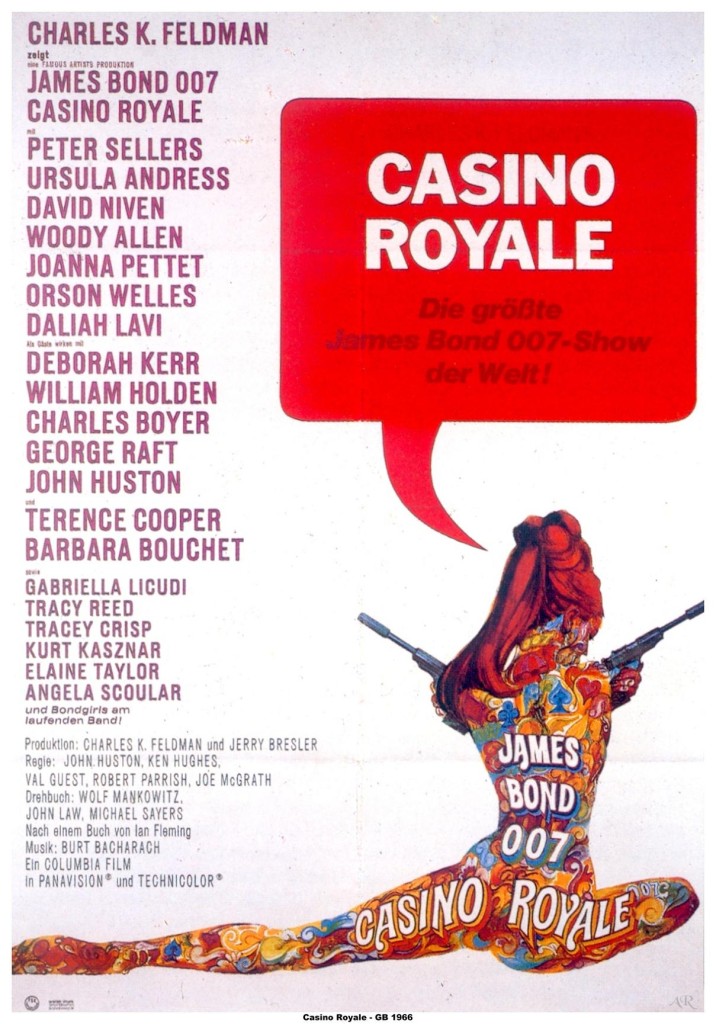 I love Austin Powers; so funny, so quotable, and you don't even have to see a single James Bond movie to get the jokes. I wish I could say the same for this 1967 spoof of the Bond franchise, which has not one but seven 007's, and lasts for a whopping 131 minutes (way too long for a spoof!). It's also the second attempt at adapting Casino Royale into a movie, and it's painfully obvious that the 2nd time is most certainly NOT the charm.
I'll confess: I have no idea what this movie is about. I've seen movies that make no sense before. Some are on purpose to be "artsy", and some are by accident through lazy writing, poor direction, careless editing, or all of the above. But this is a movie that's constantly trying to make sense, and just doesn't for some reason. It should be known that this movie had several directors and writers, which can be a good thing, but unless they collaborate perfectly with one another (they didn't), then all they wind up doing is mixing several plots and tones into a convoluted train wreck of cinematic vomit (which is what happened).
The movie starts off with Sir James Bond (David Niven), an aging secret agent who's hired to figure out who's killing off all of their fellow agents, so he makes all of the surviving agents be named "James Bond" to confuse their enemies (and their audience). From there, it hops from one "James Bond" to the next as they investigate their enemies, one pointless subplot after another; one involving a rotating toilet, another involving scandalous photographs of all the world leaders, another involving a casino believe it or not, another involving a UFO, until finally landing on the evil "Dr. Noah" (Woody Allen) who's built a bomb that will make all women attractive and kill every man over 4-foot-6 so he'll be the tallest man for all the beautiful women. None if it ties together in any coherent way, hoping only to distract its very patient audience with weak puns until the explosive climax.
The only decent scene in the movie is the one with Peter Sellers and Orson Welles about halfway through, which was made famous by their intense on-set dislike of one another. It's also the only scene that takes from the Casino Royale book, which is probably why it's the only one that makes any sense. However, that also makes it the most out-of-place scene in the entire movie, as when it starts the movie's suddenly about SOMEthing, and when it ends it's suddenly about NOTHING again. But the biggest tragedy of all is the complete and total lack of funny jokes throughout the movie. I occasionally smiled during the Peter Sellers/Orson Welles scene, but the rest of the movie felt like I was being punished just for liking James Bond.
Don't see this movie if you're a James Bond fan. But if you must, see it as an Austin Powers fan. You'll notice a couple of jokes Mike Myers borrowed: 1967 setting, playing blackjack and staying on '5' , and music by Burt Bacharach. Actually now that I've spoiled that for you, don't bother with this movie. If you prefer comedies that provide you with at least some laughter, stick with Austin Powers, and leave this pile of puke frozen in 1967.
1 out of 5