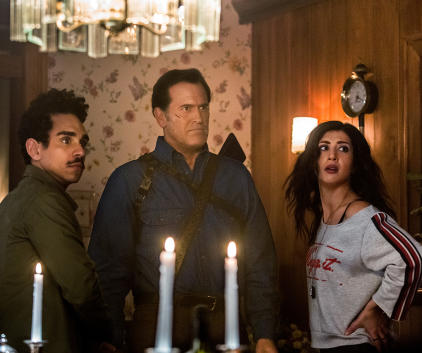 Sadly, Sam Raimi is a sought-after commodities and he can't be directly involved in every episode of his brainchild. Yet the show isn't beholden to him for stylishly offbeat direction. Episode 2 begins immediately after Ash's decapitation of his elderly neighbor and Ash hasn't lost his way with a post-slaying quip ("I'd say it's a gift from God but that would be giving the man upstairs too much credit. It's all me, baby.").
A payoff from episode 1 is Ash repeatedly gouging his verbally abusive boss, Mr. Roper (Damien Garvey), with a broken bottle. The geysers of karyo-syrup blood are giddily excessive. For all the wanton gore on display, it never feels like revolting exploitation and I don't think it would traumatize anyone with squeamish sensibilities. It's a bouncy live-action cartoon.
If there was any doubt about Campbell slipping back into Ash's blowhard colloquialisms all you need to hear is him proudly say "Let the boomstick do the talking" and you'll feel like you're in the most blissful time warp. He is a square-jawed Daffy Duck. This episode revolves around Ash's germane suspicion around Suzy Maxwell (Mimi Rogers) who was formerly surmised to be deceased.
His Deadite interrogation is warily hilarious ("What are you waiting for? You know you want a piece of this."). When the truth is revealed, Michael J. Bassett might actually surpass Raimi during the ensuing mayhem with the shotgun-mounted camerawork and adrenaline-surging violence. No computer-mongrelized effects this time around. It's au naturale.
Typically I hate when extremely ambidextrous heroes are saddled with sidekicks for comic relief (Justin Long in Live Free or Die Hard, Ryan Reynolds and Jessica Beal in Blade Trinity, etc.). But the formula finally works in this since both of the second bananas (Pablo and Kelly) don't overshadow the main attraction of Campbell and they aren't blithely tossing one-liners. After all, that's Ash's job.
Rating: 4.5 out of 5