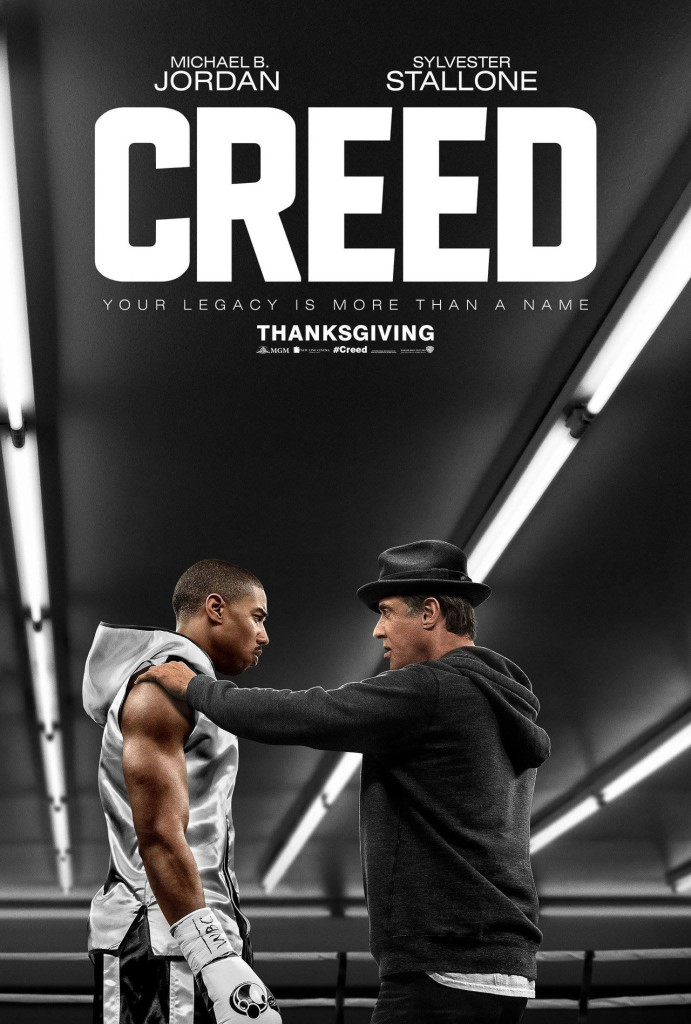 Remember 25 years ago when Rocky V came out, and it was the last one? And then 16 years later Rocky Balboa came out and it was the last, last one? Well, it's now 9 years after that, and we have the next installment in the Rocky franchise, and while it may or may not be the last, last, last one, it's certainly better than the two that came before it.
Rocky Balboa (Sylvester Stallone) takes on a supporting role this time, and in the lead is Adonis Johnson (Michael B. Jordan), the illegitimate son of the late Apollo Creed. After working at a high-paying job for which he just got promoted, "Donny" quits to pursue his life-long dream of becoming a fighter. He exchanges a big house in L.A. for a crummy apartment in Philadelphia and tracks down his father's former best friend, and through some invasive and often-humorous encounters, convinces Rocky to train him in the pugilistic arts. While some fans might be angered by the retconning of Apollo's infidelity to his wife (I was), it's necessary to Adonis' goal to prove that he's not a mistake.
If you were expecting a traditional Rocky movie with a new lead, you won't get that here. Sure, there are the occasional and often blatant nods to past entries, but director Ryan Coogler keeps the focus on Donny and his journey from nobody to somebody while he tries to avoid the last name that could jeopardize the independent fame he's trying to earn. And Michael B. Jordan proves himself a worthy lead, dominating every scene and showing great chemistry with each of his co-stars. The pugilistic bouts are especially interesting. My personal favorite is the first bout to go pro, where an up-close three-round fight is done in what seems like a single take. Definitely a fight movie for the 21st Century.
But what would a Rocky movie be without Rocky? In the first movie in the series NOT to be written by Sylvester Stallone, he nevertheless delivers what may be a career-defining performance. Gone are the training montages and bad flirty jokes to the shy girl who works across the street, and instead we're treated to an aging restaurateur,  long passed his prime, who takes on this young protégé to honor his late friend. And Stallone's portrayal is nothing short of poignant. A man who's seen and done it all, who WE'VE seen see and do it all, passing on the wisdom we watched him collect for nearly 40 years. He's sharp, witty, confident, yet vulnerable. Like your favorite uncle. This is the most human portrayal of the character, and his shift to a supporting role is both natural and the greatest benefit to the progression of the franchise. I never thought a career tough guy like Stallone could truly pull off the soft, tired old man persona, but like a true professional he not only pulls it off, he makes it difficult to see him any other way.
Creed may borrow its structuring and key plot points from previous Rocky movies, rendering it less of a spin-off and more of a true sequel/homage, but nevertheless, the predictability is still somewhat charming. It's yet another underdog story, but one that works in the 21st Century. Will there be a Rocky 8/Creed 2? Difficult to say based on the closed-ended ending. But since the previous two movies tried so hard to end the franchise with in-your-face goodbyes, maybe a not-so-final ending is just what this franchise needed. Because when it's all said and done, we started with Balboa and Creed, and now we've finished with Balboa and Creed. And ending it where it began is how great stories become legends.
4 out of 5