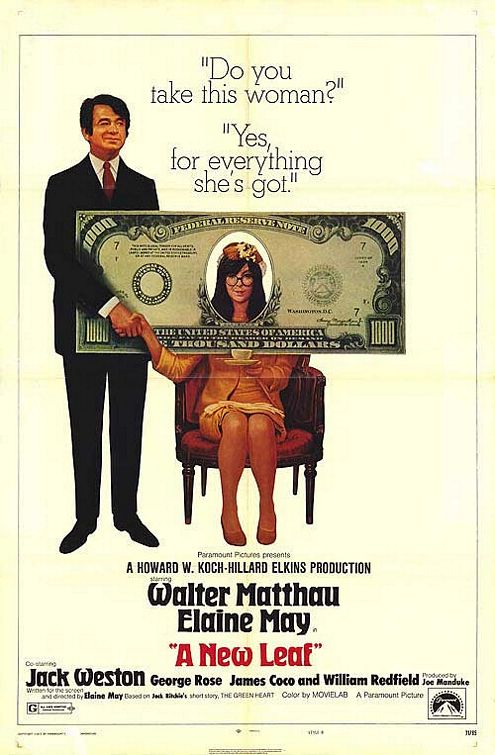 Years before she would direct the notorious box office fiasco Ishtar, writer-director Elaine May was a frequent collaborator with Mike Nichols. You may have heard of him considering he was the journeyman behind classics like Carnal Knowledge, The Birdcage and of course, The Graduate. Anyway, the fairer half of the comedy duo pursued her own projects as well and one of them was 1971's A New Leaf which has been left in the dust of time. This is a crushing blow when viewed today because it is a lacerating, uproariously funny satire about how ill-equipped the rich are when facing a reality of self-sufficiency.
Word has it that May presented the studio with a three-hour-long cut and naturally, they mandated several edits to shear it down to its present length. What's astonishing is how brisk the final 102-minutes product is. A few establishing shots linger with ADR as if to compensate for a longer scene that were bowdlerized for time purposes. These are rare since the rest of the film is svelte.
The plot is set into motion when Henry Graham (Walter Matthau), a trust-fund millionaire, is told in increasingly laymen's terms, that his checks are beginning to bounce because his money has been wiped out due to overspending. With a loan from his cackling uncle, Graham is given six weeks to find a suitable, affluent woman to marry or risk losing his status and possessions including his prized Ferrari.
Matthau strolls around with his nose permanently skyward for the role but what's surprising is we are doggedly enamored with his plight despite his avarice. After several backfiring attempts at courtship, Henry encounters Henrietta (May herself), a timid botanist with a penchant for clumsiness. Try not to guffaw when he exclaims that she is "perfect" after realizing what a clay pigeon she is.
Even though his initial plan to dispatch Henrietta is fodder for Ealing Studios black comedy (she obliviously doesn't notice that Henry is browsing a Beginners Guide to Toxicology), the film evolves into a rather sweet romance between the mismatched pair. May also wrote the equally brilliant Heartbreak Kid with Charles Grodin but she abstains from that film's wanton cynicism towards monogamy and eternal happiness.
At the point in which their relationship solidifies, Henry has studiously done his homework on plants and therefore, he has put more effort into this ticking-clock farce than anything else in his privileged, asexual life. The running gag of "carbon on the valves" of Henry's Ferrari is just a sample of the escalating comic energy along with Henrietta's habit of defacing carpets.
It has vanished from public consciousness but A New Leaf supports the belief that May is not properly heralded in circles as one of the best female voices in comedy. Before Tina Fey and Amy Schumer, she stood up to the buffoonery and disreputable business of laughter with the men of that era.