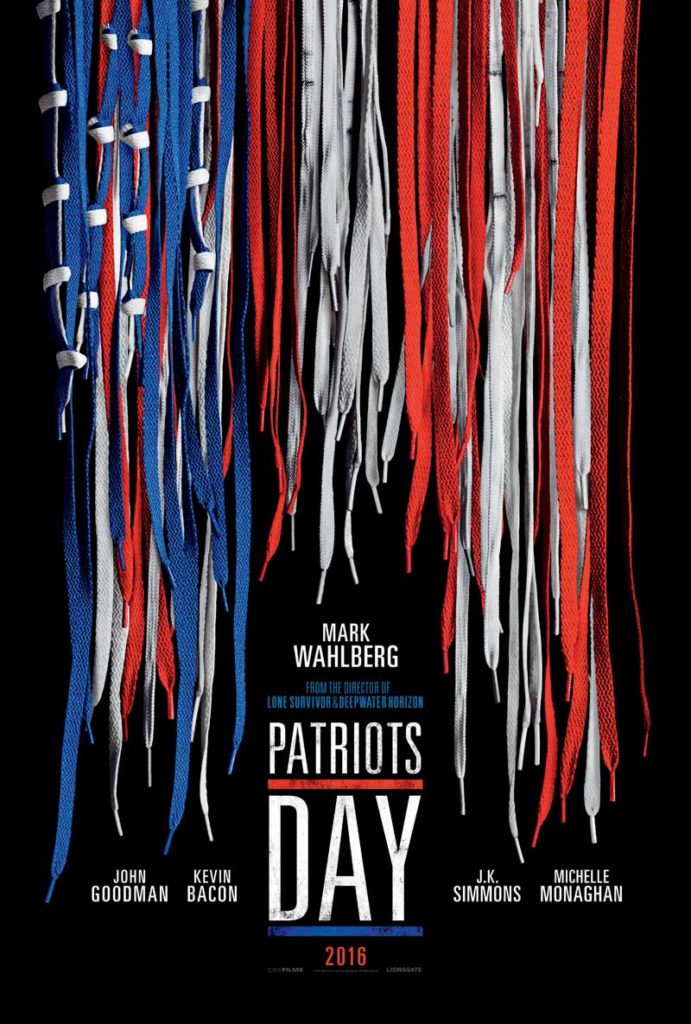 The Boston Marathon bombing was a tragic act of terrorism that shook the world. The harrowing five-day nightmare was watched by millions, either by seeing it on the news or by following it on social media. Updates were frequent and kept people on the edge of their seats. It's no secret that modern technology, cameras and cellphones in particular, are what helped police identify and ultimately subdue the bombers, which created a bond with the entire Boston community during such a terrible crisis.
Set in 2013, the movie follows an eclectic group of ordinary citizens, based on real-life people, as they celebrate Patriots Day. The annual Boston Marathon is taking place, and newly-demoted and struggling alcoholic Sergeant Tommy Saunders (Mark Wahlberg, playing one of the only fictional characters in the movie) is working security at the marathon, a low point in his career. But after two homemade bombs go off, all hell breaks loose. Fear, terror, and chaos consume the city as the frightened citizens don't know where to go or what to do, and the police and FBI work with what little evidence they have to identify and catch the bombers before they strike again.
Mark Wahlberg is a Boston native, probably why he was chosen for this movie. His face is on the poster and he holds a producer credit, but there are big chunks of the movie where he's absent and I'd forget that he was the star. His character is fictional after all, and this movie is primarily about telling a real-life story. Once the crisis begins, it's all about the Tsarnaev brothers. 2013 wasn't that long ago, and the events of that day are still quite fresh in many people's minds. I myself visited Boston this past summer, which was when I first learned about Patriots Day. Some of the locals seemed quite sensitive about a movie being made so soon after the tragic events. But after seeing it, I can safely say this movie handles the events with respect to those that lived through it. The tragedy isn't shied away from, nor is it glamorized. In the latter half, plenty of screen time is devoted to the real-life personalities, such as the lead FBI agent, Richard DesLauriers (Kevin Bacon), Police Commissoner Ed Davis (John Goodman), and Sergeant Jeffrey Pugliese (J. K. Simmons), the cop who ultimately took down the elder brother, Tamerlan Tsarnaev (Themo Melikidze). The Tsarnaev brothers do come off as one-dimensional villains at times, but that's because the movie so closely follows the real-life events that it comes off as more of a docu-drama than a thriller. The characters simply re-enact the events their real-life counterparts enacted. Now I know why they created a fictional character for Mark Wahlberg. They needed someone to stand out from the crowd.
Patriots Day is very much a love letter to the city of Boston itself. For those who don't know, Boston is essentially where America was born. It's where the American Revolutionary War was fought, and it's where the Declaration of Independence was signed in 1776. It's located right on the east coast, only a few hours northeast of New York City, and it was founded in 1630 A.D., making it one of the oldest cities in the United States. The locals are proud of their seafood, their Boston cream pies, Harvard, M.I.T., their lovable accent, the U.S.'s first-ever subway train (that went quite literally just down the street from where it started, just so they could beat New York City to the history books), and they even enjoy the theme song from Cheers. This is a movie that loves to show off the city it's based in. The tragedy is one thing, but there are also bits of humor thrown in at just the right times to remind the audience that the people of Boston are as unique as they are strong. It's an amazing city and one I can't wait to visit again and I'm not at all surprised at the pride they have for their city.
Everyone who knows about the Boston Marathon bombing knows how it ended, so there shouldn't be any surprises here. But a movie like this is never about the ending. It's about the story as a whole. The tragedy is shocking and depressing, the explosions are intense and frightening, the shootouts are realistic and visceral, and tensions are always high. Performances are well-acted and everything is reminiscent of our memories of that day. After the story ends, time is devoted to the real-life victims who share their experiences and detail how they've recovered in the years since. It's a far happier finale than you'd expect of a real-life tragedy, even showing a man who lost his leg running the next Boston Marathon. It's an uplifting end to a terrible tragedy that shows why they created those now famous words: "Boston Strong".
4 out of 5