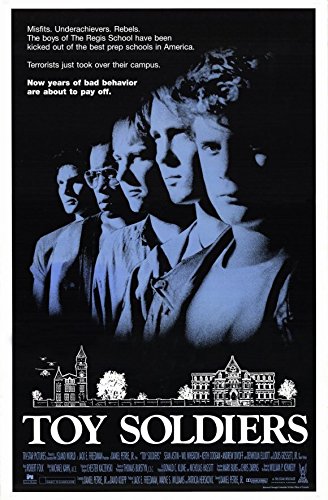 Some characters never get their due. For instance, Andrew Divoff has forged a career of being relegated to sadistic psychopaths from the snarling biker in Another 48 Hrs. to the malevolent djinn in Wishmaster. In David Koepp's innovatively formulaic, invigorating Toy Soldiers, his vaguely ethnic looks are reconstituted to be a Colombian terrorist and he is one of the keys to this derivative sleeper's success.
When Sean Astin wasn't corpulent and addlepated, he rode on his parents' lineage and landed lead roles. He's convincingly recalcitrant as the Ferris Bueller ringleader. I typically abhor movies with a motley crew of Goonies-esque children surmounting their older adversaries. Yet the Rejects School entourage are cresting past puberty and aren't obnoxiously resourceful or preposterously polymathic for their age (ex. The cellular phone contraption to bypass 1-900 hotline charges is plausible).
Somehow the film isn't eviscerated by what could've been a risible Die Hard-in-a-prep-school scenario. As Headmaster Robert Gould (Denholm Elliot) is instructing his students on timeless literature, a machine gun-brandishing freedom fighter is casually reconnoitering the courtyard. It possesses the potential for a Mad Magazine parody but it is all buoyed by headlong conviction.
The breadcrumb trail that juxtaposes the Barranquilla prologue to a United States institution is surprisingly shrewd. Louis Gossett Jr. isn't frothing at the mouth like his former authoritative figures. Instead he is quite compassionate and magnanimous towards the pranksters despite their incessant unruliness.
Were the characters prepubescent the film would've been an unsavory slice of child-in-peril exploitation. Thankfully, they're all dissident teenagers and it contributes to the plucky nature of Toy Soldiers. Billy's (Astin) race-against-the-clock back to the dormitory before an afternoon headcount is especially nerve-rattling. It is certainly a rollicking crowd-pleaser that doesn't brazenly insult the viewers' intelligence with Stockholm Syndrome symptoms during the hostage situation.