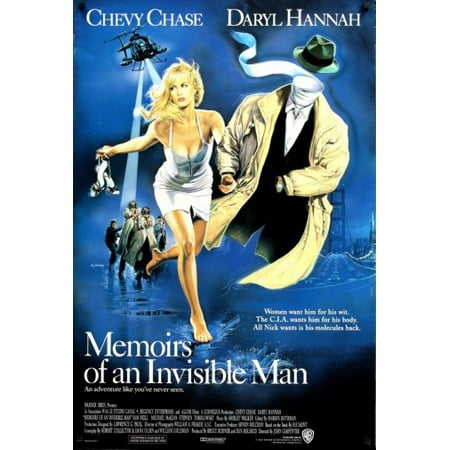 What was almost a synergy between Ivan Reitman and Chevy Chase ultimately became a John Carpenter spy thriller. Which is probably for the best since Chase at this lull in his career was adamant about abdicating comedies for more serious roles. In that regard, Memoirs of an Invisible Man was a departure for both Chase and Carpenter and outside of the dazzling special effects (the bubblegum chewing is convincingly levitating), it is a swooning, hard-boiled adventure.
The voiceover from Chase isn't too verbose but it definitely scratches the Raymond Chandler itch. As was the case with Foul Play and Fletch, Chase is actually superlative as a romantic, lovelorn lead despite his somewhat insular, throwaway sarcasm which is minimized here (the in-joke of his pseudonym as Harvey (Jimmy Stewart's figment rabbit) is mirthful). His chemistry with the astoundingly pulchritudinous Daryl Hannah is electrifying.
Shirley Walker's composition while heart-palpitating contains some elements of Flight of the Bumblebee. Not once is the film written as a foolhardy spoof of the H.G. Wells story although it does intersperse low-key laughs and screwball physical comedy such as when Nick (Chase) puppeteers a drunkard's incapacitated body to hitch a cab ride. In fact, it postulates the eclectic impediments that invisibility would catalyze within the subject. How do you eat Chinese food when "you can't see your own hands"? Would does one slumber without eyelids? According to Nick, it's not a dulcet lullaby.
The Magnascopic Laboratories with conspicuous fissures throughout is a preternatural sight and an early calling card for Industrial Light & Magic. Obviously the CIA subplot is a jejune plot device from other pictured but Sam Neil is the X-factor. He is unnerving in the archetypal G-man role.
While it was outside the oeuvres of both Carpenter and Chase, Memoirs of an Invisible Man is observantly acute and monumentally suspenseful. It speculates many of the inquiries that most people would partake in if they were aesthetically nonexistent (ex. At a beach house, Nick eavesdrops on his vacuous cronies and their insolent reactions as to whether he is deceased or not).