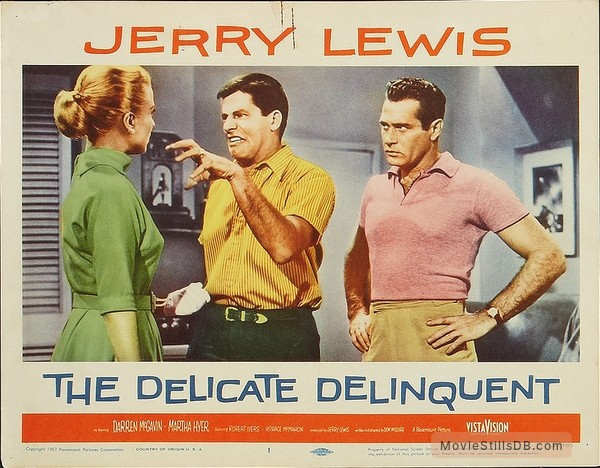 In his first loopy, albeit winsome solo outing, Jerry Lewis fraternizes with his co-stars with a constraint on his mugging abandon. He might be a porcine screen hog but he milks every ounce of chortles from his potent chemistry with a solidly stalwart Darren McGavin. In fact, McGavin is a superlative anchor next to Lewis than Dino; more comfortable with the madcap tone. Dean was a matinee crooner, not a seasoned thespian. When officer Damon (McGavin) asserts that Sidney isn't a "specimen" to him, he is convincingly not duplicitous.
Usually Lewis is an accident-prone nebbish sans socially redeeming value but Sidney is an unjustly excommunicated apprentice. The cockles of one's heart will sparkle when Sidney frowns to one of the pugnacious building tenants "Don't call me nothing. I don't like that." A B-plot about a scientist's "frog ship" into outer space, is a dollop of misdirection in the midst of a polyvalent buddy bonding between McGavin and Lewis.
For once, the antics are grounded and Sidney is a basement-dweller with innovative Rube Goldberg contraptions. Before he embarked on vanity projects, The Delicate Delinquent is considerate and egalitarian to Lewis' supporting cast and Sidney is not a bedeviled, one-note caricature. Lewis' internalized rendition of "By Myself" would've been reserved for Martin but Lewis' pipes are sonorous nevertheless.
As Sidney is punctilious about acceptance into the police academy and the rigors associated with it, the film floats by with a David-vs.-Goliath perseverance. Likewise, the tryst between the chauvinistic Damon and Martha Henshaw (Martha Hyer) is dulcet and McGavin is a stud in their scenes together. The film has ticker along with rictus smiles.