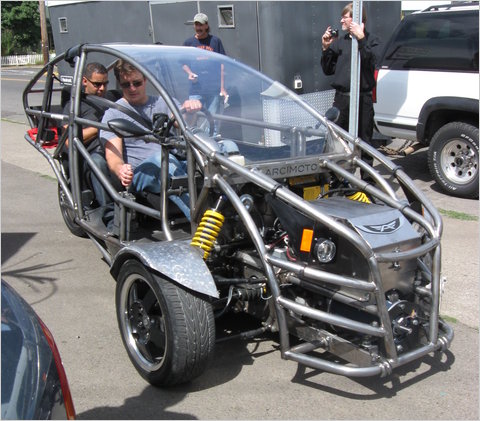 [via The New York Times]
This isn't big news in any way, but I do find it pretty funny. Recently actor Nathan Fillion, whom you all know and love from Firefly, Serenity, Dr. Horrible's Sing-a-long Blog, and Slither (and to a lesser extent Castle), took the Arcimoto Pulse for a drive. The Pulse is an electric car that promises energy efficiency, compact size, and overall comfort, and Fillion instantly took to it, tweeting "I found it! I found my spaceship! It's real and I'm getting it! http://arcimoto.com/" on his Twitter feed. Moments later, the Arcimoto website crashed. I think it really goes to show how much star power the guy has, and it still baffles me why Hollywood hasn't snapped him up as a leading man!
The Arcimoto Pulse is apparently going into production next year, and it sounds like it is one sweet little ride.