Warning: This review may contain traces of spoilers, and may have come into contact with spoilers from other games.
A couple of days ago I featured the trailer for Octodad, a truly bizarre third-person puzzle game developed by students at DePaul University in Chicago for the Independant Games Festival Student Showcase at the 2011 Game Developers Conference in San Francisco. Watching the trailer, which I have reposted above, I immediately knew that I had to play and review this game, so I downloaded it, installed it, and braced myself for the difficulties of being both a father and a cephalopod.
Octodad's story is detailed in a "Journal" feature within the game, but it was a bit too long-winded for me to bother reading it, so my summary here is based entirely off of what transpires as you play the game. Octodad is an octopus who has managed to convince a human woman that he's a human man. He lives with her in his suburban home along with their two kids, both of whom are human. Yeah, I didn't understand that part either. The story is told in funny little sequences that I hesitate to call FMVs because they're more like animated comics. These motion comics look as though they were created with construction paper and coloured pencils – probably a result of the game being an independent production – but the style suits Octodad's surreality perfectly.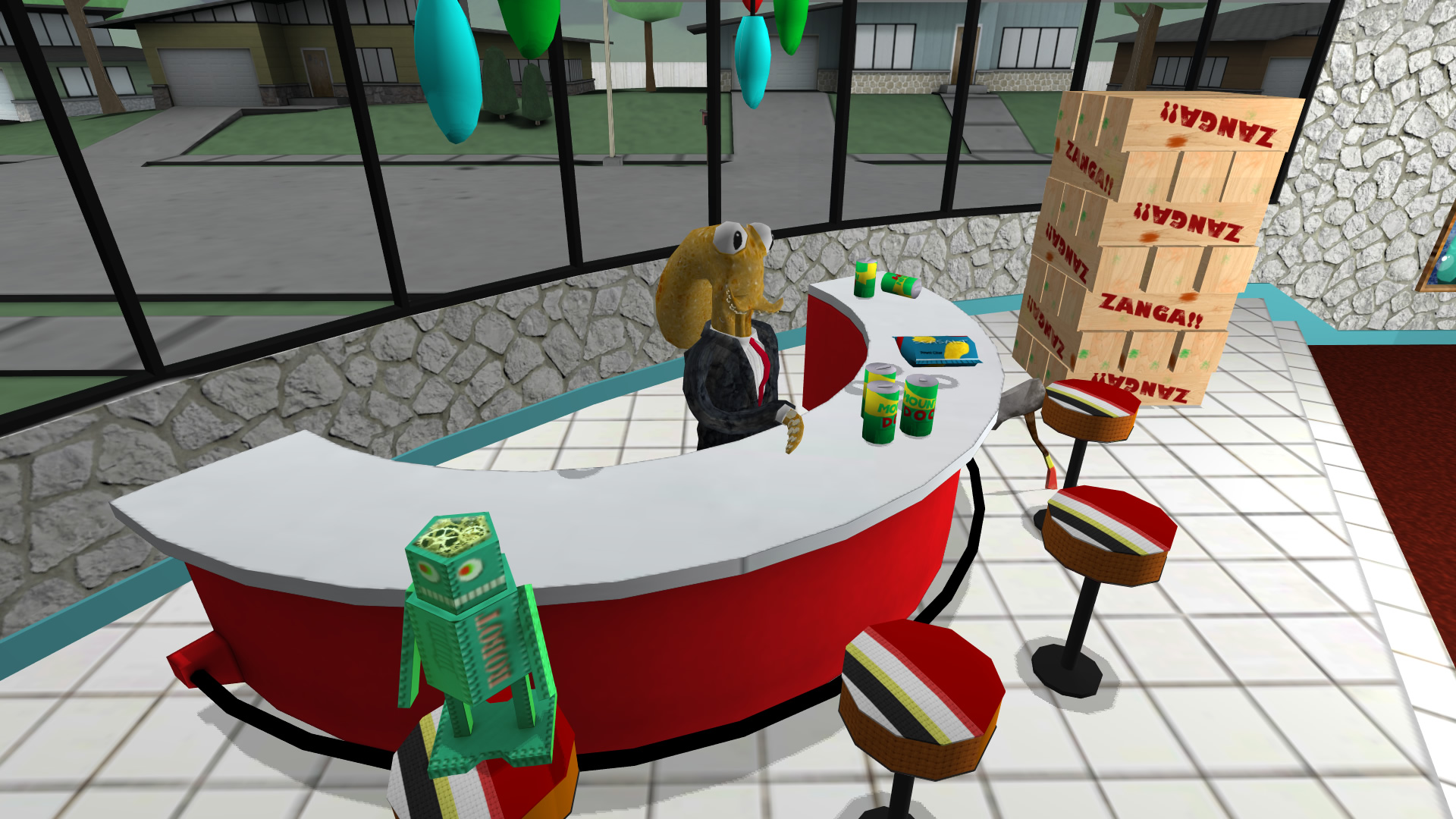 The game is divided into four levels, each of which comes with a list of challenges that you must complete in order to succeed in your goal…which is apparently to build a decoy version of yourself to distract your wife as you work on some mysterious "machine". You can see the different levels in the trailer: your wife wants you to clean the kitchen, your son wants you to run a gauntlet of challenges he's set up, and your daughter wants you to make sure no monsters get her as she goes to sleep. Completing each of these ultimate goals gives you a piece of the mannequin. There's also a suspicion meter, which shows you how suspicious you're making the people around you with your strange behaviour. Fill up the suspicion bar, and it's all over. It's a pretty basic game set up.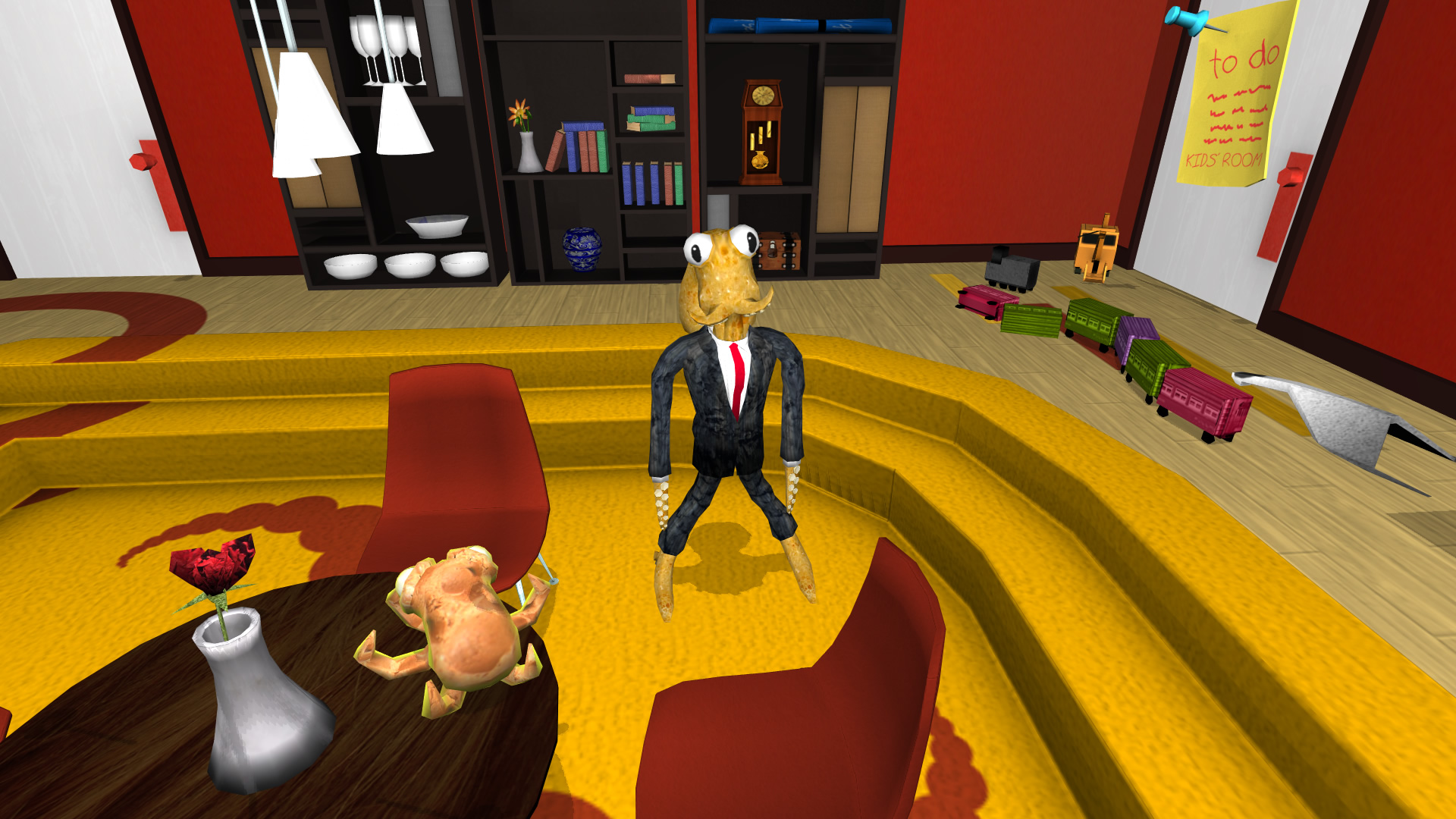 Octodad's greatest weakness is also its biggest selling point, and that's the controlling of Octodad himself. The controls are set so that you must control each of his limbs individually, which results in the laugh-out-loud ridiculous movement that made the trailer so appealing to me. The controls, which primarily use the mouse, are easy to learn but near impossible to master, and it's almost more fun to watch someone else controlling Octodad than it is to play him yourself. Almost. Thankfully, the humour of playing Octodad is also present if you're in the driver's seat, and I found myself chuckling at how ludicrous I looked as I flung my tentacles in all directions. As annoying as the control scheme can be, though, the game designers made the wise decision to keep the game short. I completed it with little difficulty in under an hour, and it really was the perfect length.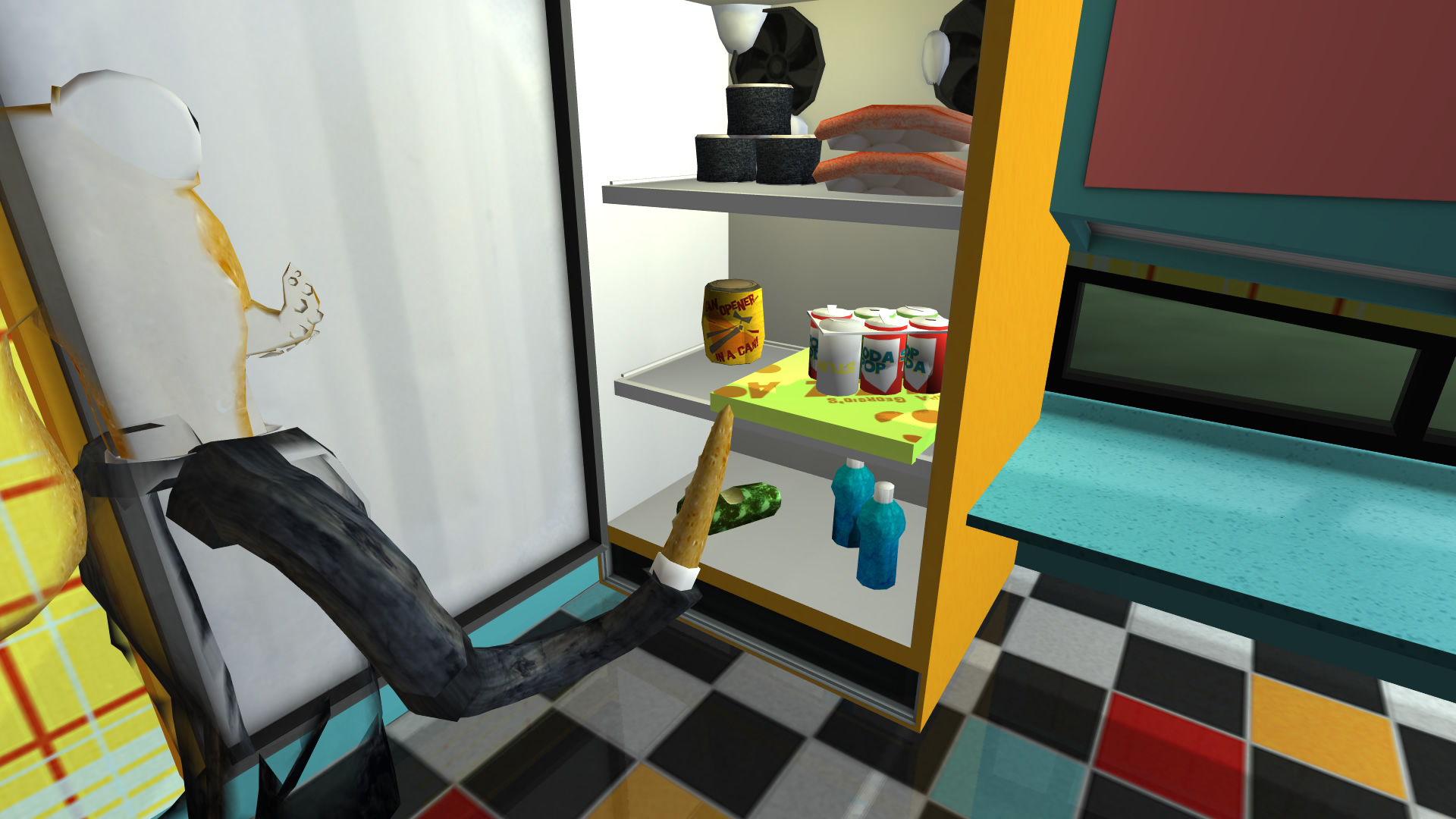 I only have two small complaints about Octodad, which speaks to the mileage the game designers get out of the game's humour and innovative silliness. The first complaint is the suspicion bar. It was totally unnecessary, and not once did I even come close to failing one of the challenges. Either they need to eliminate it altogether or make it easier to arouse suspicion in the in-game NPCs. My second complaint is that the most interesting plot point, which occurs halfway through the game, doesn't get resolved. As you're watching a TV commercial, the chef in the ad suddenly addresses Octodad directly and says that he knows Octodad's secret! Suddenly there's a mad chef who wants to cook you, and he even turns up hidden in your daughter's closet. After he confronts you at your home and makes you climb a ladder in an effort to prove that you're not a human, he just runs off. It's a shame, because I thought he was pretty damn funny. Both of these complaints are minor quibbles, though.
I recommend checking out Octodad, especially if you like puzzle games. The quirky style, the absurdist humour, the strange controls and the hilarity of just playing the game all make it well worth the download. And it's free! You have no excuse not to play this game.
3.5 out of 5