Warning: This review may contain traces of spoilers, and may have come into contact with spoilers from movies, comics and other TV shows.
Well, it was bound to happen sooner or later: The Walking Dead had an episode that didn't quite meet my standards for the show. That isn't to say that episode 4 was a bad episode – it wasn't. The Walking Dead continues to be edgy, awesome television, but unfortunately, episode 4 felt to me like the show's producers were just killing time (and some zombies) while they wait around for the big event that the season will no doubt end with. Strangely, this weakest episode of the series was also the first written by Robert Kirkman himself, the creator of the graphic novels that serve as the show's source material.
In my review of episode 3, I mentioned that the Merle Dixon/Daryl Dixon storyline isn't in the comics, and that I suspect it was created in part to prolong the season and delay Shane's death. Whether Shane will die by Carl's hand (as in the comics) remains to be seen, but I'm convinced that Shane's demise will be the first season's final plot point. What this means, however, is that we have to spend a lot of time twiddling our thumbs as Frank Darabont and Robert Kirkman fill time leading up to this end-of-season occurence. And that's just what episode 4 is: a pointless tangent. Merle doesn't even appear in this episode!
Episode 4 isn't a total loss, mind you. There are some good character moments, such as Jim (one of the members of Rick, Carl and Lori's group) starting to go a little crazy and digging a bunch of graves without any explanation. When he's finally forced to stop by Shane, Jim reveals that the only reason he was able to escape the hordes of the undead was that the zombies were too focused on eating his family to be bothered to get him too. Glenn is briefly kidnapped by a group of what appear to be Latino gangbangers, but in fact turn out to be regular guys protecting senior citizens who were abandoned in a nursing home. These are all really solid plot points, but aside from gaining a bit of insight into Jim's character, none of them factor into the show's overarcing plot. I doubt we'll ever see the guys in the nursing home again, Glenn's capture was pretty easily remedied, and Jim regained his sanity by the episode's conclusion. Nothing was achieved, and that's why I feel that this episode was weak, especially compared to the awesome first three.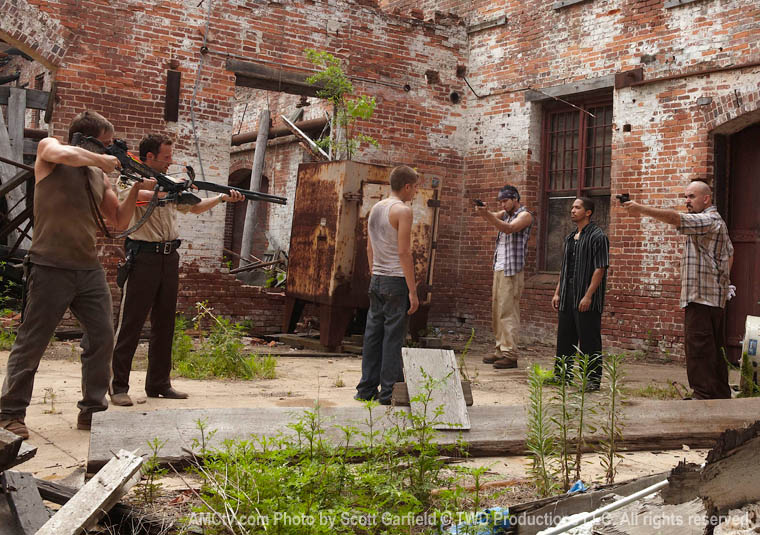 The one thing that happened in episode 4 that made it all worthwhile was a big zombie attack on the camp at the end of the episode. Suddenly there were zombies everywhere, and more than one of the characters that we've been getting to know in the group of survivors were brutally killed at the hands of the walking dead. Of course, Rick and company showed up just in time to save most of them, but it was too late for Andrea's (Laurie Holden's) sister Amy, who was bitten right on the neck! The episode concludes with Amy's death, which I hope means she'll come back as a zombie at the start of episode 5.
But where did all those zombies come from? Did Merle Dixon have something to do with it? Right near the end of episode 4, Rick and company discover that the box van they drove to Atlanta in has gone missing. Rick thinks that Merle took it – did he fill it with zombies and drive it back to camp in an act of revenge for leaving him cuffed to a rooftop? We'll just have to wait for the answers to these questions, which again reinforces why I think episode 4 was the least interesting Walking Dead episode so far: it poses questions but gives no answers, it creates dramatic scenarios that are solved within minutes, and in the end it just felt to me like so much navel-gazing. Let's hope they pick up the pace next episode! We only have two episodes left before the season ends, after all!
4 out of 5