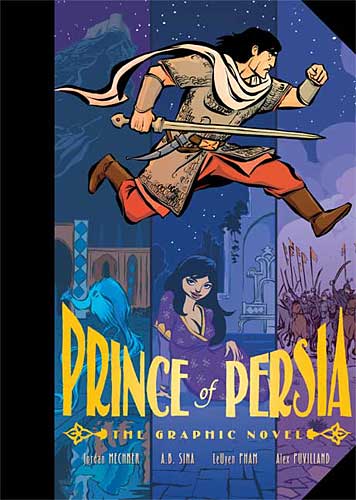 On Sundays, Felan profiles his favourite comics and graphic novels from across the diverse medium's history.
Jordan Mechner's name may not ring a bell with everyone, but his work is probably familiar to most readers. Mechner's Prince of Persia video games are widely acclaimed as classics, and the series has remained successful across several generations. Mechner is also responsible for writing the original (later much edited) screenplay for the mediocre 2003 film adaptation of the series, Prince of Persia: The Sands of Time. Much more worthwhile than Chesty Jake Gyllenhaal running around pretending to be Persian, however, is Mechner's own comic book take on the concept, Prince of Persia: The Graphic Novel, co-written by A. B. Sina and illustrated by LeUyen Pham and Alex Puvilland with colours by Hilary Sycamore. Unlike the film, this intriguing book is not at all what you might expect…
Rather than simply adapting the storyline of one of the video games, which would produce a pretty straightforward action-adventure narrative, Mechner and Sina's approach is instead to construct a shifting, shimmering mirage of interlocking stories inspired by the legends of the Arabian Nights. In one, an exiled prince haunted by strange and terrifying visions tries to find the source of his anguish; in the other, a strange young man (who may or may not be a prince) lives in a magical ruined garden and befriends a young woman on the run from her decadent, oppressive family. Both stories also feature an obnoxious philosophizing peacock with psychedelic plumes, providing some great moments of comic relief. Rather than identifying one specific character as the titular Prince of Persia, each story has its own Prince, bound together by destiny and prophecy, if not by time and space. Mechner and Sina's storytelling is driven less by action and more by intuition, fate and magic, which makes for a sometimes-confusing but thrilling read.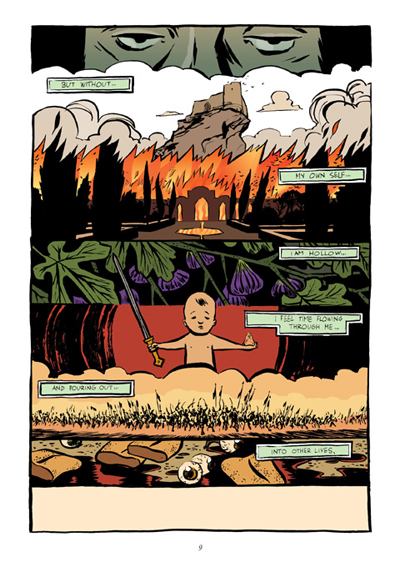 Pham and Puvilland render the word of Prince of Persia in a style simultaneously reminiscent of European BD and Disney movies (Aladin in particular, of course) that suits the playful, wandering narrative but also accentuates its sometimes dark and disturbing images. Sycamore's colours are bright and bold, with each setting and subplot possessing its own unique palette. Flash-backs and stories-within-stories are smartly rendered in the style of ancient Persian wall paintings, which helps to situate each tale in relation to the others and reinforces the book's mythical sense of history.
One of the best things about the book is actually Mechner's afterword, "Who Is the Prince," in which he writes about the history of the Prince of Persia franchise, and the impressive amounts of research that went into developing the graphic novel. In particular, his discussion of how in the Arabian Nights stories and characters are much less goal-driven, fixed and permanent than in Western fairy tales is illuminating and a pleasure to read. Ultimately, he argues, there is no singular, original Prince – he (and sometimes she) has always existed as a multiplicity of characters in a multiplicity of stories, something that Mechner, Sina and company capture masterfully in this charming and riveting volume.
Prince of Persia: The Graphic Novel is a one-off graphic novel published by First Second. For more information and images, check out the publishers website here: http://us.macmillan.com/theprinceofpersiacollectorsedition, and Jordan Mechner's personal site, here: http://jordanmechner.com/prince-of-persia/. (Mechner and Sina's graphic novel is not to be confused with Prince of Persia: Before the Sandstorm, a much more conventional and much less interesting movie-tie-in comic made up of prequel stories also written by Mechner with a variety of different artists.)