Imagine checking out Time Magazine and reading their list of the "Top 10 Performances of 2008". Seeing Heath Ledger's performance from The Dark Knight at No. 1 wouldn't be much of a surprise, but then you move to No. 2 and see that they've listed… Jean-Claude Van Damme?! Well, believe it or not, when given the opportunity to play himself, the "Muscles from Brussels" was able to show the world that he also had "Acting Muscles From Brussels" as well. There have been a lot of metafilms produced where famous actors have played themselves and were not afraid to lampoon their own screen image, but rarely has one of these actors provided a more eye-opening performance than Jean-Claude Van Damme in JCVD. Despite enjoying great success in the early 1990s, Van Damme's star had faded considerably by the end of the decade as he seemed to be trapped in a non-stop string of flops. By the time JCVD was made, Van Damme had not starred in a theatrically released film for nine years and seemed to be trapped in direct-to-video purgatory (appropriately enough, one of his straight-to-DVD efforts from this time period was titled In Hell). Perhaps out of desperation, Van Damme agreed to return to his native Belgium to star in a satirical film in which he played himself. The original screenplay portrayed Van Damme as a clown, but when director Mabrouk El Mechri was brought on to the project, he thought there was a lot more depth to Jean-Claude Van Damme than anyone imagined and did a massive rewrite. While JCVD only enjoyed a limited theatrical release and didn't win any awards, it was quite a revelation for those who actually saw it and is currently the only Van Damme film to have a "Certified Fresh" rating at Rotten Tomatoes.
While the central storyline of JCVD is completely fictitious, there are a lot of semi-autobiographical elements in the film and you're often left wondering just how much truth about Jean-Claude Van Damme is up there on screen. In the film, JCVD has become disillusioned with the state of his career and is suffering from financial problems. He's also embroiled in a bitter child custody battle, which he seems destined to lose. JCVD decides to get away from it all by returning to his hometown of Brussels, Belgium, for what he thinks will be a relaxing vacation. However, after walking into a post office to receive a wire transfer, he finds that he has unwittingly stumbled into a robbery which quickly escalates into a hostage situation. This scenario is presented from multiple points-of-view. Inside the post office, JCVD wants to be a hero and save the hostages' lives, but much to their disappointment, he is not the larger-than-life superman that he portrays in his films. While one of the robbers is a huge JCVD fan, their psychopathic leader is not impressed and actually forces JCVD to call the police and pretend that he was the one robbing the place! Of course, once word spreads that JCVD has taken hostages, a media frenzy ensues, and a large throng of fans actually show up at the scene to show their support for him. The whole storyline is a very clever spin on Dog Day Afternoon, and a satirical look at the concept of celebrity worship.  The film's satirical tone is established during the opening title sequence, which was one of my honourable mentions on this week's Shouts From the Back Row podcast about great movie opening scenes. The sequence is a hilarious parody of elaborate action scenes which are shot in one long continuous take… but since the whole thing really IS shot in one unbroken take (and Van Damme was 47 at the time he did this), it's also pretty damn impressive from a technical standpoint!
Even though much of JCVD is satirical and tongue-in-cheek, the film also tackles some very serious material when it examines the personality of its star. Let's face it, Jean-Claude Van Damme has had himself a fairly tumultuous personal life. He has gone through five marriages, and is currently married to a female bodybuilder, Gladys Portugues, whom he had originally divorced back in 1992. He has two children with Portugues, and one child from his fourth failed marriage. Van Damme also had to enter rehab because of a serious cocaine habit in the mid-nineties, and has even contemplated suicide while suffering from bipolar disorder.  During the child custody hearing sequence in the film, JCVD's young daughter says she would rather live with her mother because all the other kids poke fun of her because of her dad's movies, and you wonder just how much of this storyline was based on reality. (It's worth noting that Van Damme has a son from his failed marriage, which was changed to a daughter in the film for legal reasons.) So while Jean-Claude Van Damme is essentially playing an exaggerated version of himself in this movie, there's still an awful lot of painful truth on display here. This role almost represented an opportunity for Van Damme to let all his personal demons out into the open, and as Roger Ebert wrote in his original review of the film: "Van Damme says worse things about himself than the critics would dream of saying".  The movie's big set piece is an emotional six-minute monologue that Van Damme delivers to the camera and, in a neat parallel to the film's opening action sequence, it's all shot in one long unbroken take. Those who have always believed that Jean-Claude Van Damme is a terrible actor will be astonished by this scene.
http://www.youtube.com/watch?v=BMb5FE7aMN0
A great deal of JCVD was improvised, and it's obvious that the star had a large hand in writing that soliloquy. In fact, before the filming of that scene, Van Damme did not tell anyone else but the director what he was going to say, and requested that it be filmed in privacy behind a black curtain. It's obvious that Van Damme is baring his soul right there on camera and using the scene as an outlet to talk about his mistakes and insecurities. It's a very courageous performance and those went on record stating that the actor deserved an Oscar nomination… well, they weren't kidding! Many actors will tell you that it's very difficult to play a convincing and engaging screen version of yourself, but Jean-Claude Van Damme somehow manages to pull it off. It's possible that Van Damme always came across as a stiff actor in his Hollywood films because of his discomfort with the English language, and that being able to act in his native French just put him more at ease. One can debate whether or not Jean-Claude Van Damme is a genuinely good actor, but at least he used his performance in JCVD as a stepping stone to take on more dramatic roles in the likes of…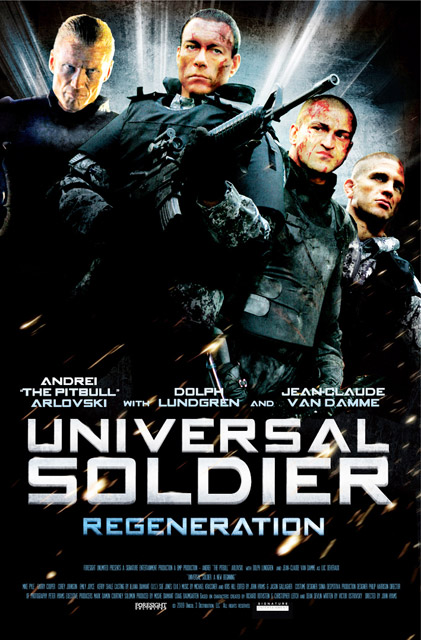 Ah, never mind!
All kidding aside, after turning down a role in the original film, Van Damme is scheduled to appear alongside many of his fellow action stars in The Expendables 2 this summer, so it will be interesting to see if that has any impact on his career. Wherever his career goes, JCVD remains a unique anomaly not just in the filmography of Jean-Claude Van Damme, but for cinema in general. Even if you're not a fan of the "Muscles From Brussels", you're well advised to check this film out. It's a funny, suspenseful and very entertaining story which presents a lot of eye-opening ideas about the nature of celebrity that Hollywood wouldn't dare touch.