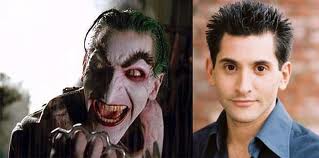 The story of Andrew Koenig is a sad one. The son of Walter Koenig – famous for playing Pavel Chekov on the original series of Star Trek and the films that followed it – Andrew Koenig dabbled in show business just like his father, acting in TV series such as Adam-12, 21 Jump Street, Growing Pains, and Star Trek: Deep Space Nine, and providing a voice on the G.I. Joe cartoon early in his career. He also directed three short films and served as editor on a number of documentaries. He made a big splash in 2003 when he appeared as the Joker in the fan-made short Batman: Dead End, and frankly, I think he did an amazing job with the role. Hell, he certainly looked the part!
http://www.youtube.com/watch?v=cxu9LA14-fE
After participating in some human rights activism in 2007, Andrew Keonig went missing in February of 2010. He was found dead later that month, having taken his own life. He was 41.