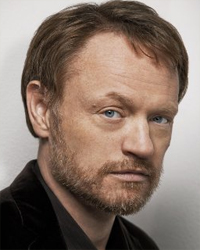 Actor Jared Harris began his career on the screen in 1989's The Rachel Papers, and for many years afterwards he played supporting roles, with some of his more well-known work being in films such as Far and Away, The Last of the Mohicans, Natural Born Killers, Dead Man, and Lost in Space. More prominent supporting roles followed in the 2000s, with Harris appearing in Mr. Deeds, Igby Goes Down, The Other Boleyn Girl, and Lady in the Water. Harris also began to star in several TV series, including The Riches and Fringe. It was his turn in Mad Men as Lane Pryce, starting in 2009, that really drew Harris into the limelight.
Harris also appeared as Moriarty in the film Sherlock Holmes: A Game of Shadows, cementing him as an actor who can hold down a starring role in a blockbuster.
http://www.youtube.com/watch?v=buE_jLEZrf4
Over the years, I've become quite a fan of Harris' work. His departure from Mad Men made me sad, but I'm very curious to see what projects he appears in next. He turns 51 today.