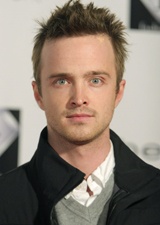 Hey yo, it's Aaron Paul's birthday, biatch! Aaron Paul may be best known for his portrayal of Jesse Pinkman on AMC's Breaking Bad, but he's been acting for years.
Paul moved to Los Angeles to work for a modeling and talent association, and also appeared on an episode of The Price is Right, as well as starring in a few music videos and commercials, before moving into television acting on shows like Melrose Place, Suddenly Susan, and 3rd Rock from the Sun. In 2000, Paul made the transition to movies with Whatever It Takes, and since then, he's appeared in shows like The X-Files, Judging Amy, NYPD Blue, CSI, CSI: Miami, ER, Veronica Mars, Criminal Minds, Bones, and Big Love.
Other film credits to his name include K-PAX, Van Wilder, and Mission: Impossible III. But he'll always be Jesse Pinkman, yo! Aaron Paul turns 33 today.