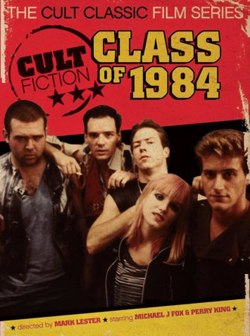 "Come and get it, teacher teacher!" I discovered Mark L. Lester's 1982 Canadian film Class of 1984 after seeing Troma's ultra low budget film Class of Nuke 'em High. I was slightly disappointed with the latter because I felt that it went on for too long and I felt that they could have done more with the premise, but I loved the gang The Cretins in it, who were former honour roll students who adopted a mean, punk image (the opening scene in the film where the nerd becomes infected and goes crazy is also classic). Being a big fan of the '80s punk scene and Michael J. Fox (Class of 1984 is one of his earliest roles), I went into Class of 1984 with high expectations, although I thought that the movie would be in the same vein as The Breakfast Club (PG rated fun).
I was wrong. Class of 1984 is considerably more darker and visceral, and as Roger Ebert said in his review of the film, "it really grabs you." This film shocked me.
It's about a new music teacher (Perry King) who arrives at an inner city school dominated by dangerous punks. He comes into contact with the gang leader Peter Stegman (played by Timothy Van Patten), who is as disruptive and feral as he is gifted. Thus begins the war between teacher and student. The school is pretty futile against Stegman's actions, and they progressively become more extreme and violent as the movie goes on. What starts as verbal threats and juvenile pranks soon escalates to arson, rape, kidnapping, burglary and attempted murder. A few students even get killed off along the way. Unlike The Cretins, this punk gang is hard to like, with the exception of Stegman's sexy girlfriend Patsy (Lisa Langlois). In one scene, one punk student tries to kill his teacher and get his arm cut off with a band saw and then thrown upon it. I nearly screamed when I saw it, and just wait until the jolting finale!
The punk gang in this movie is every parent's worst nightmare, dabbling in everything from prostitution to extortion to drug dealing. The script feels like it was written by a paranoid parent who believes that Stegman's violent, psychopathic, rebellious behaviour is representative of punk ethos, but that's not necessarily a bad thing. Apparently this film is based on true events, although to what degree I'm not certain. Roddy McDowall also appears in the film as the music teacher's friend and colleague, and he loses it after the gang brutally kills his rabbits in a most memorable scene. Michael J. Fox is also great as one of the students. The acting in this film is exceptional by all. I really enjoyed this film, and I would say without a doubt that it's one of my favourite '80s films and certainly my favourite Canadian movie. Gripping and compelling, Class of 1984 is a genuine, dark surprise, and it will hold onto you for many moments after you finish seeing it.
http://www.youtube.com/watch?v=B9cK8-tmCto
http://www.youtube.com/watch?v=IBEmmC-v_yI