I must confess to the fact that I'm a Twin Peaks newcomer. I haven't seen any of the previous episodes but I've been recapped on the Laura Palmer murder mystery and the ensuing oddities from friends. Having said that, I'm still a devout fan of David Lynch's oeuvre of idiosyncratic surrealism (The Elephant Man, Dune and Blue Velvet being my personal choices for his magnum opuses).
Lynch's collaborations with Kyle MacLachlan have been a tremendously fruitful marriage of actor and director. Kyle seems to be readily incorporated into Lynch's brand of bucolic madness. In the intervening 25 years, Agent Dale Cooper has a nefarious doppelganger: a tanned weekend warrior with a mullet and pitch-black irises. Quite the stark contrast to his well-groomed, fastidious image during his stay in Twin Peaks.
Much like his other excursions into dream logic, the dialogue is serpentine with quotable nonsequitirs such as when Dale advises a lodging employee to hire another bouncer, she cryptically replies "It's a world of truck drivers." Along with that, the 217-member cast includes a cornucopia of celebrity walk-ons (Ashley Judd, Jane Adams, Matthew Lillard, etc.) and loopy characters (the absentminded neighbor is my favorite).
Lynch can be oblique but he doesn't alienate the audience with pretentiousness. Within a reconnoitered building, a man is garrisoning a "top-secret" project which is a glass box that seemingly hypnotizes the people around it. How it correlates to the overarching story is still an enigma but when the guard states that his colleague once saw something materialize inside the box, we are anxiously awaiting a phantasmagorical glimpse ourselves.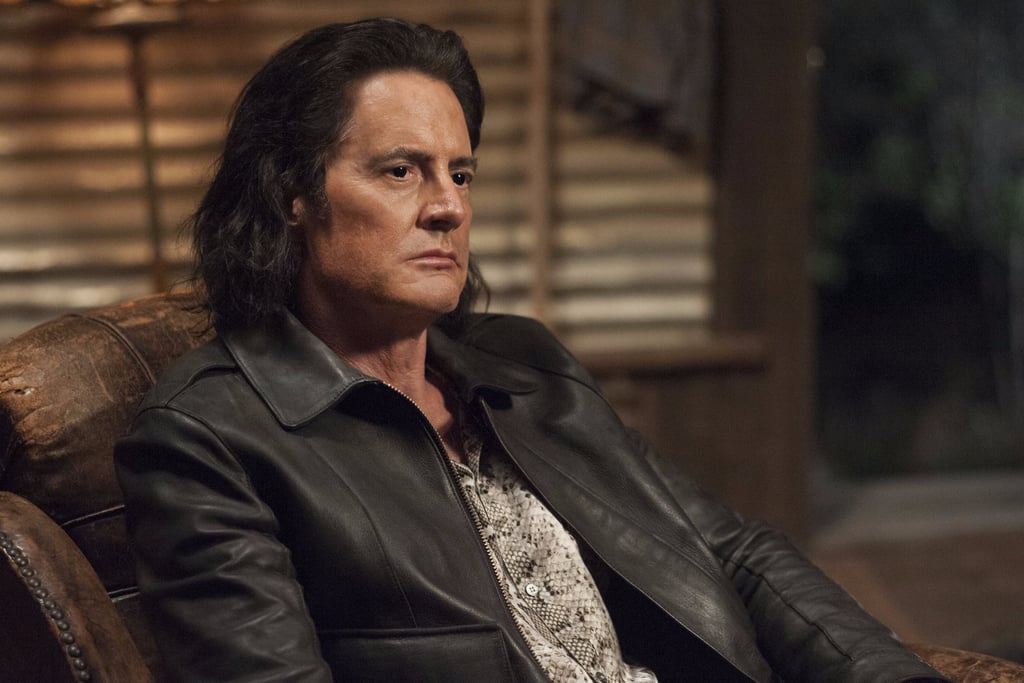 Emboldened by a slot on Showtime, the show isn't bound by network censors and therefore, a highly charged, carnal sex scene can occur before a EVP-esque poltergeist can collide through the booth and savagely slaughter the copulating couple. It's a genuinely scary set piece. Cooper is largely missing from the premiere episode but the plot now pivots on gravitating Cooper back to the wilderness.
The latest incarnation of Twin Peaks is an unassailable success. It proceeds to ferry us back to the land of Lynch's gonzo imagination and terrifying quirkiness (the deputy chief gains information from messages from a log). To some, it might be a wave of nonsense or a shaggy dog story with no coherent ending. To me and those who grew up on the show, its puzzling structure is chief among its pleasures.
Rating: 4.75 out of 5