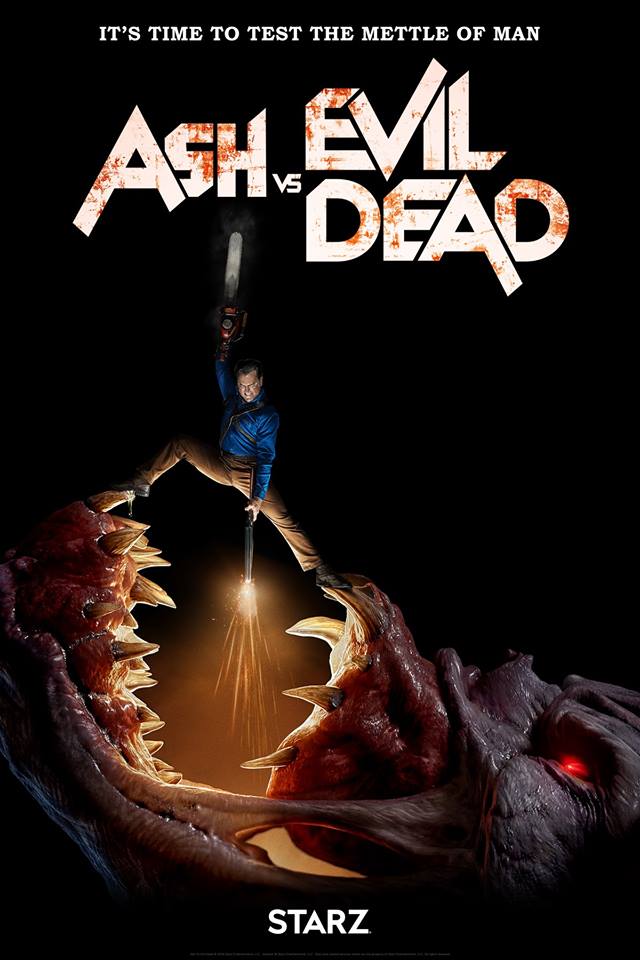 The final season. And the end of Evil Dead as we know it. The blow would be less severe if the cancellation hadn't happened a mere 9 days before the Season 3 finale, prompting worries that the show would end on a cliffhanger that may never get resolved. After all, where can Evil Dead go from here? They were never able to get a fourth movie off the ground, the video game franchise was nothing more than "the next best thing", and the 2013 remake was kind of one-and-done, so TV was kind of Evil Dead's last-ditch effort. But fans everywhere knew it had to end sometime. So how does one of the greatest and longest-running horror franchises go out? Not the way you expected, that's for sure.
Ash (Bruce Campbell) is now the hero of Elk Grove, Michigan. He's re-opened his late father's hardware store, and for the first time in 30 years, doesn't have a care in the world. That is until some hapless wanderer stumbles across the Necronomicon and brings it to an ancient book expert to get it appraised. A few spoken words later and the evil is re-unleashed, prompting Ash and his "Ghostbeaters" to reunite, and meeting a high schooler named Brandy (Arielle Carver-O'Neill), who turns out to be the daughter Ash never knew he had.
The start of the season doesn't feel like the beginning of the end by any means. It feels like it's simply the "next" season rather than the "last", though that should come as no surprise. As the season progresses, situations become more dicey, and some genuinely risky moves are made, some of which are quite dark for a show like this one. Not that there isn't loads of humor to go along with it. There's more than enough slapstick to go around, the blood and gore is near-constant, and Ash's hilarious one-liners are always there. (This is Evil Dead after all.) Like Season 2, the final two episodes are where it's all at, as the Deadite problem goes global and Ash has to finally accept who he was always meant to be. And it's done in a surprisingly believable arc, even for Ash. The final moments between the "Ghostbeaters" are also more tear-jerking than you'd expect. Whether they knew they were cancelled when they filmed those scenes or not, it certainly felt like a proper ending throughout the entire final episode.
As for the supporting characters, Ruby (Lucy Lawless) is pure evil again, and this time she's out to destroy Ash by any means necessary, whether by turning his daughter against him or by distorting the prophecy written in the Necronomicon. Pablo (Ray Santiago) has always had genuinely interesting story arcs: from inheriting his uncle's talents in Season 1, to literally becoming the Necronomicon in Season 2, to becoming a "Brujo Especial" in Season 3, Pablo has very much become a formidable soldier in the fight against the Deadites. Kelly (Dana DeLorenzo) has always been more of a gun-toting wild card. In Season 1, Pablo was jealous of Kelly because she knew exactly who she was, but here in Season 3, it seems like the tables have turned slightly. Nevertheless, Kelly gets, by far, her most interesting story arc in this "final" season (let's just say she plays both sides). Daughter Brandy is a typical high schooler who wants nothing to do with her dad "Ashy Slashy", especially since Ash's parenting skills are exactly as bad as you'd expect. But she not only learns to respect her father, she also becomes him in some fairly startling ways. She's not the greatest long-lost child of a long-running protagonist, but I feel Brandy deserves at least one thumbs-up.
The confusing time-travel ending from Season 2 is glossed over and remains unexplained, though that's more the fault of Season 2 than 3. This (now final) season is mostly about Ash accepting his responsibilities as both a father and the chosen one, Ruby fulfilling her purpose to the Necronomicon, and of course, Pablo and Kelly getting some closure. Like most Evil Dead stories, the ending will leave you scratching your head for hours if not days. Is it a cliffhanger ending? Absolutely. But it's an ending that's so bonkers and game-changing that it works as a grand finale too, like one of those "new beginning" cliffhangers. (It's also a kind of poetic justice for fans of a certain Director's Cut.) The point is, Evil Dead as we know it would still be over even if Ash vs. Evil Dead had gotten another season. So regardless of how you feel about where Ash ended up, there's no denying that the way they ended Evil Dead was nothing short of "Groovy!"
4 out of 5