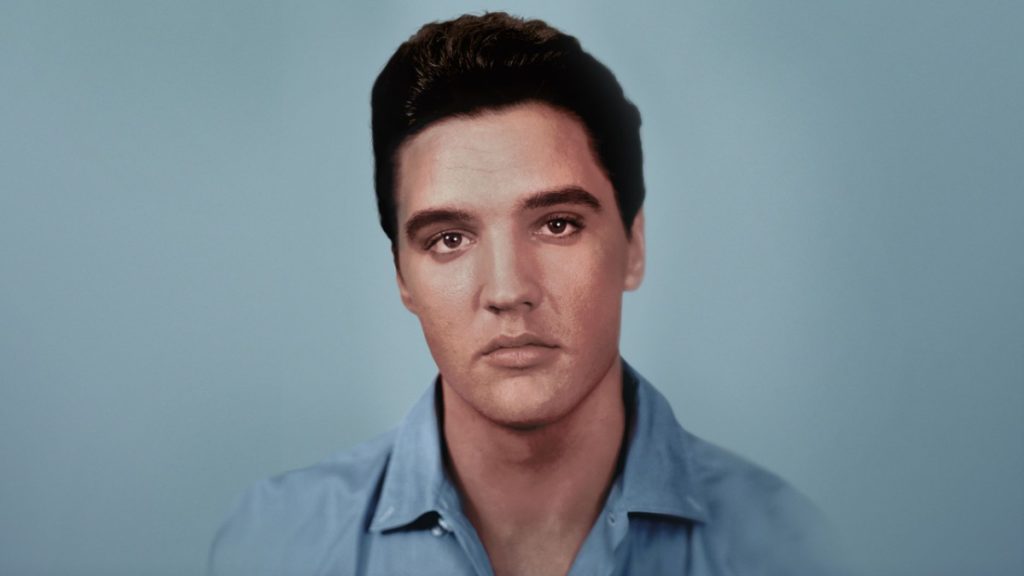 HBO's new documentary Elvis Presley: The Searcher peels back the mythological layers of the rock icon/god to examine him as a man who was hard working, open minded, quite likeable, and who loved music. I love Elvis Presley, especially his Sun Sessions work and his first album, and while I was initially hesitant to watch a feature-length documentary on him (especially after so many Elvis stories have been told), I felt that this two-part series was a refreshing take on him and really makes us reassess what we really knew about him and who he really was. Nowadays, I find that he generally appears as either a caricature or a superhuman being, and indeed when you see him onstage in his early days, incredibly good looking and alive with his guitar and amazing voice, it does seem ethereal and we know that this is a performance of a lifetime.
In order to break down our presumptions and preconceptions of Elvis the rock star, the doc begins by taking us back to his upbringing in Memphis, emphasising his relationship with his mother which was pivotal towards his own musical development. The director Thom Zimny takes an interesting approach to the interviewees too, omitting the "talking heads" of typical documentary interviews and instead presenting their comments as voiceovers juxtaposed with images and performances of Elvis. I really enjoyed hearing from Bruce Springsteen and the late but also great Tom Petty in particular (so good to hear from him, it was like he rose from the grave to give us his final love note, and what a love note it is!). They hadn't directly met Elvis, although Bruce jumped the gates of Graceland while Elvis was away and had written the song "Fire" for him (Elvis died before he could sing it), but they gave many insights into what Elvis might have been going through, identifying with him on a rock star level as well as a very personal level, and for me these insights were better than some of the folks who knew Elvis directly. Zimny also turned to the vaults for some interviews, including snippets from the long deceased Sam Phillips and Elvis' manager Colonel Tom Parker, who is portrayed antagonistically (and rightfully so) as an opportunistic, greedy businessman who may have been indirectly responsible for Elvis's early death (giving him more shows when he should have been resting and as a consequence turning to drugs and substance abuse as a means of maintaining the highs and lows of his intensive schedule). In a weird twist of fate, Tom Petty also died from a heart attack brought on from drugs, but he was taking drugs to ease the pain of a broken hip.
I was very inspired by this documentary (so much so that I'm playing to learn some songs on my old mandolin!), particularly Elvis's early days and the power and attraction of his image, personality, and sound. He seemed quite approachable in the private sphere and one of the great tragedies for me was that he never got to travel as he always wanted to (he really wanted to see more Europe and Asia but his manager would never let that happen because he was secretly Dutch and afraid that he wouldn't be able to re-enter the U.S. if he left and came back). In the end, his fate is made all the more tragic because he was alone, likely very depressed, and a shell of what he once was (but a gentleman until the very end). The doc also breaks down the racist myths of Elvis; he really liked black people and their music and was very open minded to their style of music. He also really enjoyed acting, but unfortunately he never had the opportunity to take on the roles that he really wanted, despite finding some critical success with King Creole and Viva Las Vegas. While it is a very personal documentary, it's also very much about the cultural impact of Elvis, and while the documentary stays rooted in his actual life and not so much the hagiography and cult appeal of his afterlife, we emerge from the documentary with a deeper understanding of why he is so celebrated and what makes him great, and I think the Springsteen/Petty commentary also works well for that.
At three hours, it is a longer documentary, but it's three hours that are absolutely worth your time and tell his story fairly and succinctly. Zimny concentrates on Elvis's '68 Comeback Special (after his time in the army and when he had disappeared from the public eye for a bit), a pivotal moment for Elvis where he wasn't sure if people remembered him (of course they remembered him and he was bound for megastardom, iconic status,  and an early grave). Despite the vultures in his life, Elvis loved his fans and his music and the fans (still) love him and it was something to look forward to. I wish he was still alive and those Sun Session days would last forever, but he is still so alive and resounding in the music. Here's a final reflection on Elvis from Petty :
"He was a light for all of us. We all owe him for going first into battle. He had no road map and he forged a path of what to do and what not to do. […] We should dwell on what he did that was so beautiful and everlasting, which was that great, great music."
I hope Petty gets his own excellent HBO documentary someday too. I also really enjoyed the recent HBO documentary Andre the Giant, which is worth seeing if you have time. Long live the King!
[youtube https://www.youtube.com/watch?v=difvw0CcnGA]